Walpole's Charles Altiman One of Many Who Sacrificed Life In War
Next Tuesday, November 11, 1997, special focus will be directed to locally connected individuals who lost their lives in world wars. The Steinhioff Memorial Cenotaph lists the names of 29 Great War victims, 44 from World War II, and one Korean War casualty, Anthony Scott. Regretfully names of three Walpole Island second war casualties were not inscribed when updating the cenotaph took place in 1946. Charles Altiman (KIA aboard the USS Gambier Bay), Willard Shipman, and Edwin Wright served with Allied forces and ultimately made the supreme sacrifice. Rosslyn Sands, also a Walpole Island native, was another WWII casualty, but because he maintained partial residency in Wallaceburg, he was included for inscription along with other town and area war losses.
Charles Morris Altiman was born on Walpole Island on March 8, 1926. Named for his grandfather Charles M. Altiman, he was raised and came to appreciate the natural beauty of the Walpole environment, guided by his mother Blanche. Charles started primary schools at No. 1 Elementary on Walpole, continuing until age eight. At the time it was customary for young children to be educated in large residential school. For Charles, this meant an annual fall departure to Shingwaulk Residential School at Sault, Ste, Marie, Ontario, a destination many miles from home. Children were either bussed or placed on an excursion steamer at Sarnia for the long trip north. This meant months away from home and parents, usually returning only at holiday breaks and during the cherished summer vacation period. Leaving Walpole under this arrangement in 1934, Charles was homesick and longed for his mother. Thusly, summer sojourns back on Walpole were so important, a return to where youngsters rightfully belonged.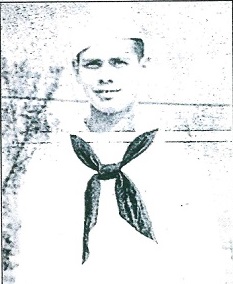 Recently, a cousin of Charles, Nellie (Sands) McDowell of Chicago, related to this writer her closeness to "Chuck" (as she preferred to call him). She mentioned an occasion when Chuck had constructed a miniature bridge. When beckoned over to look, both Nellie and Chuck stumbled into a stagnant pond resulting in both being hospitalized with typhoid fever. Following graduation from Shingwaulk at age 16, Blanche and her son Charles decided to leave Walpole Island and move in with an aunt and uncle in Detroit. Walpole Island, however, was still home and both mother and son returned at every opportunity, the annual fall fair one of the favorite activities for the reunion. In March 1944, Charles reached his 18th birthday. By this time the United States had been in the war since the Pearl Harbor attack in December 1941. Eligible young men were expected to join the forces. Charles traveled to the nearest Detroit naval recruiting center and enlisted. Two months following his 19th birthday, Charles began six weeks of basic training at the Great Lakes naval base in Chicago. After completion of training, he returned home for a day furlough, which ultimately was his last visit. Upon return to base, Charles Altiman, US Navy, was transferred to Shoemaker, California, awaiting further orders.
At this junction of the war, the United States was heavily engaged against strong Japanese forces in the Philippine Islands area. Seaman Second Class Charles Altiman was assigned to the U.S. escort carrier Gambier Bay, which left its base in California on August 1, 1944 and headed across the Pacific as part of a U.S. invasion force. During the ensuing Battle of Leyte Gulf, the U.S. task force came under heavy Japanese fire. The Gambier Bay took 26 solid hits before sinking on October 25, 1944. Charles Altiman was one of the 119 human losses that day.
More than a year later, his mother Blanche received notification that Charles was officially listed as "killed in action." On October 27, 1946, a memorial service for Charles was held in St. John's Angelican Church on Walpole Island.
Fifty-four years after the Gambier Bay went down, a memorial monument was unveiled at San Diego, California (October 24, 1996), remembering the ship and crew, as well as other members of the composite military squadron. The name Seaman Second Class Charles Altiman is listed third in the ship's company. He made the greatest sacrifice of all and thusly will be perpetually remembered for giving his life.
Sincere thanks to cousins of Charles, Rosemary Teschke (Inkster, Michigan), and Nellie McDowell (Chicago, Illinois) for helping to tell the story of their dear relative, Charles Altiman.
Article was submitted by Randy Altiman, nephew of Charles.