An up close and personal interview with U.S. Navy Veteran and Togetherweserved.com Member:



AW1 Carl F Mottern U.S. Navy Reserves (Ret) (1975-1996)

PLEASE DESCRIBE WHO OR WHAT INFLUENCED YOUR DECISION TO JOIN THE NAVY?

I had heard about flying from my dad who was a WWII era B-24 Crewman in the US Army Air Force. My godfather was also a Naval Air-crewman having flown in PB4Y's with VPB-101, so hearing the stories from both led me to believe from a very early age that I was also interested in pursuing a chance to fly in one of the services.

Early in my senior year of high school I hitchhiked to the Tonawanda, New York Recruiting Office. I walked in and whe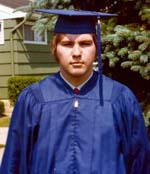 n asked by AZ2 Randy Wulf, "Can I help you?" I replied "'I'd like to join the Navy." Wulf was stunned. No sales pitch or pressure needed. Must have been quite a surprise. I wanted to join as a "Photographer's Mate," but was told the rate was very much "CLOSED." I picked AW instead and ended up enjoying the job tremendously.

After we were done with some paperwork Randy dropped me off at home. I walked in and was asked by my mother, "Where were you?" I replied, "I was at the Recruiters, I'm joining the Navy." My mother was less than convinced. She brought up that I had quit the Boy Scouts after having two Troops fold, and Civil Air Patrol when that organization had disappointed me by not living up to its billing.

A few minutes later my Dad arrived home from work. My mother thought she'd drop a bombshell on my Dad with, "Guess what, your son just joined the Navy." Unflinching Dad replied, "Good for him! If I was twenty years younger I'd go with him!" Sort of let the wind out of Mom's sails. ( :->)

In August 200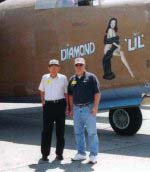 4 my Dad and I flew together on the B-24 "Diamond Lil." It was 59 years after he's last been on a B-24.

Dad passed away peacefully on April 27, 2012. The Honor Guard from Niagara Falls Air Force Base did a great Flag presentation ceremony to my mom at the funeral. I'm sure he would have appreciated it.


WHETHER YOU WERE IN THE SERVICE FOR SEVERAL YEARS OR AS A CAREER, PLEASE DESCRIBE THE DIRECTION OR PATH YOU TOOK. WHAT WAS YOUR REASON FOR LEAVING?

-Signed up for the Delayed Entry Program in on 22 Dec 1974, at the old
Federal Office Building in Buffalo, NY.

- Basic Training at Great Lakes, 9-75 to 11-75.
- AW A School at NATTC Memphis 11-75 to 3-76. Tough, struggled.

- HS-1 SAR and Aircrew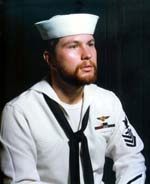 Training, 3-76 through 11-76. Even tougher, I was a poor swimmer who had to learn at each step of SAR training.

- Assigned to HS-15 (The Red Lions) sailing aboard USS AMERICA and USS INDEPENDENCE from 11-76 thru 6-79.

- A Hardship TDY assignment to HS-1, as a Non Instructor Crewman 6-79 to 8-79.

- VP-30 for P-3B (SS-3) Aircrew Training 9-79 to 12-79.

- VP-8 (SS-3 on CAC-1 from 1-80 to 11-81.

- Recruiting Duty at NRD Buffalo, NY from 1-82 to 5-85, separated from Active Duty on 5 May 85.
-Affiliated with VP-93 in the Navy Reserves in May of 1985.

-Took a TEMAC Recall to Recruiting Duty in August of 87. (BIG Mistake).

-Returned to VP-93 in June of 1989. Stayed with the unit until it was being drawn down.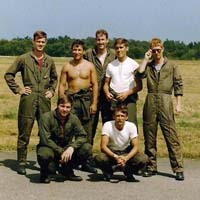 -Transferred to VP-64 in March 1994 when VP-93 was releasing personnel to other paid reserve billets.

-Served in VP-64 from March 94 to Feb 96. The fun had run out. Passed over for AWC for the umpteenth time. I had had enough, it was time to go.

-Transferred to the "Inactive-Retired" List in February of 1996 as an AW1.

I miss the good times and the camaraderie of the Navy and my reserve time. I wish I had most of it to do over again.

IF YOU PARTICIPATED IN COMBAT, PEACEKEEPING OR HUMANITARIAN OPERATIONS, PLEASE DESCRIBE THOSE WHICH WERE THE MOST SIGNIFICANT TO YOU AND, IF LIFE-CHANGING, IN WHAT WAY.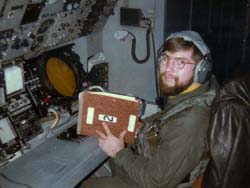 Being a classic "Cold War Sailor" I was not involved in any actual combat operations. But I did actively participate in monitoring Soviet subs and ships, the "War on Drugs" and Blockade Operations of Haiti, and the former Yugoslavia during the early 90's conflict in the Balkans.

OF ALL YOUR DUTY STATIONS OR ASSIGNMENTS, WHICH ONE DO YOU HAVE FONDEST MEMORIES OF AND WHY? WHICH ONE WAS YOUR LEAST FAVORITE?

I look back fondest to my early navy years as a Helicopter Crewman with HS-1 and HS-15 and my squadron's time aboard USS AMERICA. I was young and it was all so new to me. I was also given responsibility and trust and enjoyed the flying tremendously.

When AMERICA sailed into Rio de Janero in June of 77, I was livi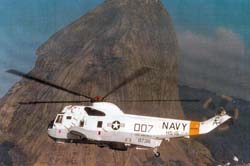 ng a moment from the Geography and Social Studies books I'd studied in school.

Later I drilled as a Reservist with VP-93. That collection of characters, where I fit right in, became much like an extended family. I was saddened when the unit was decommissioned. I miss those times.

FROM YOUR ENTIRE SERVICE, INCLUDING COMBAT, DESCRIBE THE PERSONAL MEMORIES WHICH HAVE IMPACTED YOU MOST?

My experiences as being part of an aircrew on SH-3 Helicopters and P-3 Orion Patrol Aircraft are the best memories of my Navy career. I think of those great times, EVERY Day!

OF ALL THE MEDALS, AWARDS, QUALIFICATION BADGES OR DEVICES YOU RECEIVED, PLEASE DESCRIBE THE ONE(S) MOST MEANINGFUL TO YOU AND WHY?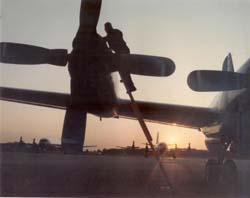 Earning my "SAR Rescue Swimmer" Certificate and later my "Naval Air Crewman" wings in the SH-3 Helicopter in 1976 were some of the proudest moments of my life.

My second and third "Navy Achievement Medal" also stand out. I was recognized for my work in Aircrew Training by both VP-93 and later VP-64.

By contrast, my first Navy Achievement Medal was "earned" in Recruiting for a "production quota." I was ashamed to talk about it. When told that the CO would present it in a big ceremony I told them "NO." The NRD reconsidered and had the Division Officer present it in private instead. It meant NOTHING to me.

Photo shows me checking the oil on a VP-93 aircraft at NAF Detroit, in the late 80's.

WHICH INDIVIDUAL(S) FROM YOUR TIME IN THE MILITARY STAND OUT AS HAVING THE MOST POSITIVE IMPACT ON YOU AND WHY?

My first AW Division Chief in HS-15 was AWC Ken Muller. He not only taught me the proper aircrew skills I'd need, but he also took an interest in me personally. He was a mentor who in time became a close friend. We have stayed in touch long after we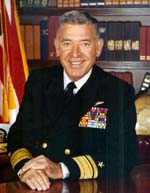 retired from the Navy.

I was also very impressed with my first CO of USS AMERICA while I was aboard with HS-15. That of course was Captain Robert B. "By" Fuller. I was newly aboard and made mention within earshot of one of my pilots that "the Captain looks pretty old." His response after a few seconds of dead silence and a death stare, was a soft but polite, "You may look a bit worse for wear after seven years in the Hanoi Hilton as a POW." I was at that point impressed with the Captains quiet and polite demeanor. He would often be seen walking the ship without his Marine orderly, talking to the crew and checking up on things.

Years later I made contact with now retired Admiral Fuller for a writing project. We finally met at the USS AMERICA reunion in Jacksonville in 2008. He could not have been a more humble and interesting man to talk to. He talked to our HS-15 gang like we were long lost pals, instead of young sailors who had once served under him. The result of that encounter and our developed friendship has resulted in the NTWS profile I have built for Admiral Fuller. He was and IS, a real true hero, and a great American.

CAN YOU RECOUNT A PARTICULAR INCIDENT FROM YOUR SERVICE WHICH MAY OR MAY NOT HAVE BEEN FUNNY AT THE TIME, BUT STILL MAKES YOU LAUGH?

There are so many, but one sticks out.

I was a young AWAN in HS-15. I was not yet qualified to fly as a single crewman. One day on USS AMERICA a schedule change took place and I had to man a helicopter turning and ready for takeoff. I arrived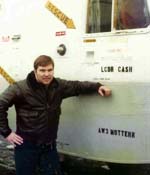 and strapped in and the pilot (LCDR Ted Cash) asked "Ready Mottern?" Replying 'Yes Sir! But Ralph's (Worthington) not here." The Pilot replied "'Too late"' and immediately took off from the ship. Looking back I saw Ralph running across the flight deck. I gave him a "palms up" gesture as if to say "What can I do?"

Cash then asked "Ever land on an LST?" Replying "No Sir!" He explained the procedures, and the landing on the rolling deck was no problem. We picked up passengers, mail and some "Secret" cargo. We then flew in to NAS Norfolk, dropped our passengers and mail and "Secrets" to an armed Officer. NO PROBLEMS, so far.

After discharging our passengers and cargo we shut down the bird for refueling. Mr. Cash said that he and the Co-Pilot (LTJG Roger Fox) would go in for a burger while I refueled.

Being '"safety contentious" I wanted to ensure all was RIGHT. I put in the landing gear and Flare Launcher pins with no problem. But the pin for the "MAD reeling machine assembly" was another story. It was sort of a "clenched hand" fingered pin with several prongs.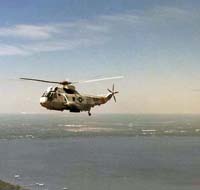 'Maybe if I wiggle this lever, it will go in easier,' I thought. I did so and all the world seemed to change to slow motion as the "MAD Jettison Sequence" played itself out. I watched in horror as the entire assembly fell out of the sponson and smashed on the hard concrete ramp. Sheepishly I went into the snack bar and told Mr. Cash my dilemma. Walking back to the bird Cash saw the jumbled mess and picked it up and threw it into the cargo door with a "LET'S GO!'

The two hour transit back to the ship gave me plenty of time to think my days as an Air-crewman were over. Back on the ship I completed the MAF form with "MAD assembly accidentally jettison while attempting to Safety Pin the mechanism." AX2 John Waldron looked at me with disdain, and yelled "I ought to make you fix the ********g thing." What could I say at that point? The estimated cost of repairs? $50,000.

For the next few weeks my name became "MAD MAN." I can look back now and laugh. It was a lesson learned to NOT try things I was not 100% sure of how to do.

WHAT PROFESSION DID YOU FOLLOW AFTER YOUR MILITARY SERVICE AND WHAT ARE YOU DOING NOW? IF YOU ARE CURRENTLY SERVING, WHAT IS YOUR PRESENT OCCUPATIONAL SPECIALTY?

I had some rough times job wise after I separated from active duty.

I did extra Navy Reserve drills and officiated ice hockey matches to help ends meet, all while working in a series of lousy dead end jobs.

I did however finally catch a break in 1993, when an opportunity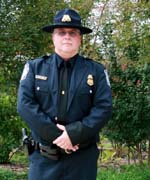 at Federal Employment opened for me at the local VA Hospital. I worked as both a Food Service Worker and Supply Specialist. I owe my break to a man who was my boss who later became a friend - the late SGT John Walkowiak, USMC. We became hunting buddies and shared many a laugh. He is buried in Arlington Cemetery, not far from USMC hero of The Pacific, GySgt John Basilone.

After four years working at the VA I was hired by the U.S. Customs Service as an Inspector. The Service was absorbed into the new "Homeland Security" Department in 2004. I continue to work for U.S. Customs & Border Protection as a uniformed Officer, assigned to the Port of Buffalo & Niagara Falls, NY. My duties have involved both commercial cargo and passenger processing as well as private and commercial aircraft arrivals. I am also a member of the Port of Buffalos "Honor Guard," completing training at Harper's Ferry WV in September of 2011. I plan to retire at age 60 in 2017.

I also have my job due to my "Veterans" status, as well as a guaranteed VA Home loan. In a few years I will have both a Military and a Civil Service retirement check coming in. Not a bad set of returns on my Navy service.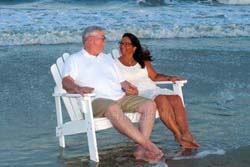 Still married since 1976 to wife number one, and we're living in the Buffalo suburb of Kenmore, New York. We have three grown children, and three grand kids. And in October of 2007 I finally followed up on my one of my lifelong ambitions by earning my NAUI certification as a SCUBA diver. It's something I've always wanted to do, and should have done many years ago. Now I'm trying to make up for lost time with as many dives as I can get in. Hoping to add another "skydive" or two to my list of accomplishments as well.

WHAT MILITARY ASSOCIATIONS ARE YOU A MEMBER OF, IF ANY? WHAT SPECIFIC BENEFITS DO YOU DERIVE FROM YOUR MEMBERSHIPS?

I am a "Life Member" of and on the Board Of Directors for the USS AMERICA Carrier Veterans Association. I am also a member of the VP-93 Alumni Association.

I also have a registered profile on the US Navy Memorial LOG.

IN WHAT WAYS HAS SERVING IN THE MILITARY INFLUENCED THE WAY YOU HAVE APPROACHED YOUR LIFE AND YOUR CAREER?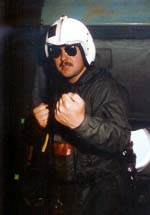 I look at every day as "Veterans Day." I am always looking to help and recognize my brother Veterans of all services.

My Navy years are also counting towards my Federal Civil Service pension. At age 60 I will have my Navy Reserve pension. I have my Federal job and gained a VA home loan because of my status as a "Veteran."

Good returns on my Navy service I'd say.

BASED ON YOUR OWN EXPERIENCES, WHAT ADVICE WOULD YOU GIVE TO THOSE WHO HAVE RECENTLY JOINED THE NAVY?

Have fun and try to enjoy the good times. Try to minimize and forget the bad. I wish I could go back and do most of my Navy time all over again.

IN WHAT WAYS HAS TOGETHERWESERVED.COM HELPED YOU REMEMBER YOUR MILITARY SERVICE AND THE FRIENDS YOU SERVED WITH.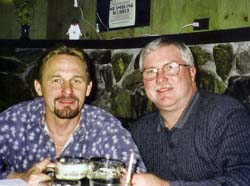 One cannot imagine how much I've enjoyed my NTWS membership. I look forward to logging in every day and sharing my own Navy experiences, as well as viewing the profiles of so many dedicated fellow Navy folks. Thank you all for your service!

I have reconnected with and kept in contact with many good friends with whom I had lost contact. I also enjoy the chance to share my experiences and photos. As I look back I realize they weren't always the best of times but I would not have traded the best of my US Navy time for any experience in the world.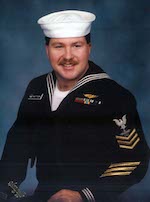 AW1 Carl Mottern
Contact This Member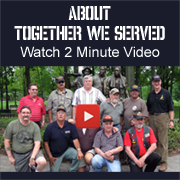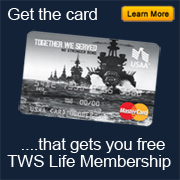 Read Other Interviews in the TWS Voices Archive