An up close and personal interview with U.S. Navy Veteran and Togetherweserved.com Member:



LCDR William Lockie U.S. Navy (Ret) (1948-1974)

PLEASE DESCRIBE WHO OR WHAT INFLUENCED YOUR DECISION TO JOIN THE NAVY?

Ever since I was a little guy my father talked to me and my two brothers about the Navy. He was only in for a four year hitch starting in about 1923. He attained the rate of Boatswain's Mates 2nd Class. To listen to him one would have thought he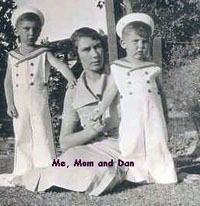 had to serve for at least 104 years.

At the time I was growing up World War II was in full swing and everyone in American was touched by it. Many men and some women joined the military services. Other women took jobs in factors making war materials. The war is what everyone talked about. We heard of neighbors being killed or wounded. There was rationing of food and other consumer goods made of rubber, metal and whatever else was needed for the war effort. WW II consumed our lives and our thinking. For me it also instilled a sense of patriotism.

In June 1948 I was seventeen and had just finished my junior year of high school when I enlisted in the Navy with the promise to finish high school using GED (General Educational Development). In 1951, I passed the GED. My two younger brothers Dan and Walt followed me into the Navy when they finished high school.

WHETHER YOU WERE IN THE SERVICE FOR SEVERAL YEARS OR AS A CAREER, PLEASE DESCRIBE THE DIRECTION OR PATH YOU TOOK.

My first ship was the USS Caliente AO-53. I reported aboard late at night and thought that maybe this wasn't a US Navy ship. The rust was running down the hull and the deck was full of debris. I was sure I had made a mistake and turned to leave.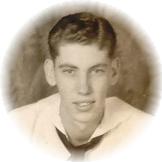 The Petty Officer of the watch said "Where are you going, sailor?" He assured me I was on the right ship. I was assigned a temporary bunk for the night and bedded down amid shouts to be quiet. I awoke to orders to go here and go there.

Finally a young sailor came and led me to the Engineering Office where I was told I was assigned to the engine room. After several years of standing watches and doing the myriad of tasks assigned I was advanced to Second Class Machinist Mate.

By now the ship was cleaned up, had a new paint job and had endured several months in the Long Beach shipyard. Mid-way through my four year enlistment the Korea conflict broke out in June 1950. When President Harry Truman signed an executive order extending every serviceman for one year, I thought "I'll show him" so I reenlisted for six years. Probably the best move ever I made.

The Caliente was a naval auxiliary ship with fuel tanks and dry cargo holds used to replenish other ships while underway on the high seas. We were one of the first ships sent to Korean waters to help with the war effort. We refueled various ships everyday as well as transferring cargo and personnel. We were a real workhorse from early dawn to sundown every day. It was easy to lose track of the names of the many ships that came alongside.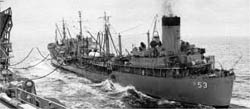 One day we were refueling destroyers and I had relieved the telephone talker at the Number 2 fueling station. My job was to establish communication with the ship alongside and to relay fueling information to personnel involved in the operation. Talking to one of the destroyers--USS McDermut DD-677--I thought I recognized the voice of the other ships talker. I searched the many men who were busy doing the refueling finally finding the talker. Lo and Behold, it was my brother Dan. I knew he had joined the Navy and went to Fire Controlman School but I didn't know that he was on a ship and that ship was deployed. We talked endlessly until refueling was completed and the McDermott steamed away.

After Dan sailed away I was stricken with a bad case of homesickness. After the day's work was done and I had chow, I went to the ships office and requested a transfer to USS McDermott. It took about 6-8 weeks for the request to go up and down the chain of command. The transfer was approved and I left the Caliente with some apprehension and started a new adventure.

Upon reporting to McDermut in San Diego I found the engineering office. By this time I knew where to go. Petty Officer 1st class Hanson was sitting in the office doing some paper work. He advised me that I would be assigned to the after engine room and that the most senior machinist mates on board were himself and a first class Machinist Mate named Imes. He also told me that Imes was to be transferred in few weeks and that he was to take charge of the forward engine room.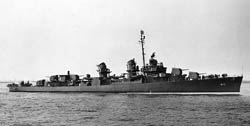 That left him in the forward engine room and me in charge of the after engine room. Two months later I was promoted to Machinist Mate First Class and after another three months he was promoted to Chief.

We left San Diego en route to the Long Breach shipyard for regular overhaul. I had the top watch in the after engine room. The steam plant was not much different than that of the Caliente so I was able to act like I knew what I was doing. When we got to Long Beach Hanson informed me that the after engine room would carry the auxiliary load. The forward engine room crew was taking off to San Diego where their families were. That left me and my crew to shift to auxiliary and go to shore power. I had done neither on the McDermott as well as the Caliente. How hard could it be! I was about to find out.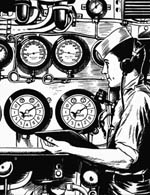 Shifting to auxiliary was simple as the generator was already running. I failed to take into account the ship and the yard electricians. They did their part without the after engine room crew being part of the evolution. A ships electrician took the electrical load off the generator and the yard electrician took the load. Only one thing wrong: The polarity of the three phase power coming to us was reversed and we had not secured the auxiliary plant yet. Because of the reversal, the condensate pump began to run backward. The vacuum began to drop rapidly and we could not find the cause. Finally, I gave up and ordered all valves closed and let the engine room die a natural death. You can bet that all the spare time I had during the yard overhaul I spent tracing out steam, water and oil lines and how they worked.

By the time we took the McDermott to sea again I was pretty confident in my ability to handle the engine room. The after engine room crew were pretty competent and we all learned together. I am proud of the way they performed during the deployment.

IF YOU PARTICIPATED IN COMBAT OPERATIONS, PLEASE DESCRIBE THE ACTIONS WHICH WERE THE MOST SIGNIFICANT TO YOU AND, IF LIFE-CHANGING, IN WHAT WAY.

Upon the outbreak of war in Korea in June 1950, Caliente returned to wartime operations, supplying fuel oil and AVGAS to the U.S. 7th Fleet in the Far East. She was highly decorated for fulfilling her dangerous mission of carrying fuel into battle areas. She received 10 battle stars for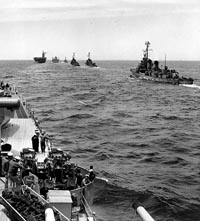 World War II, four during the Korean War and later, eight campaign stars for the Vietnam War.

After the few months in Long Beach Naval Shipyard getting an overhaul, including a tripod mast, the ship participated in a shakedown of all systems. A few days of rest and we started for Asia. We arrived in Yokosuka, Japan and took care of the little things that bugged us during our transit. Then it was off to Korea to do what we came for. Our first assignment was to Task Force 77.7. It was during this time that I transferred to the USS McDermut DD-677.

On August 27, 1952 the USS Competent AM-316 took a hit from North Korean shore batteries in Songjin Harbor. We were only a couple of miles away so our ship was dispatched to assist. We went immediately to flank speed. Fortunately we had just switched boilers, so the offline boiler was still hot and brought online quickly. During that couple of hours to get to Songjin, my men were able to get the shaft tachometer up to about 406 RPM. If I remember correctly flank speed is 388 RPM. We did things like tie the governors down on the feed pumps and the steam condensate pump. We had to move water in a hurry. We even opened the throttle into the cruising turbine being very mindful of the pressure drops for each stage and into the high-pressure turbine. Told the forward engine room what we had done to get the speed up and they followed suit.

When we got to Songjin the ship immediately began to make a smoke screen around the USS Competent so they could concentrate on getting out of harm's way. The smoke screen was black because the smoke generator on the fantail did not work. Both fire rooms made this smoke by cutting back on the air going to the fire boxes. This in turn diminished the steam we could use in the engine rooms. Nevertheless, we were able to keep the speed to 20 plus knots.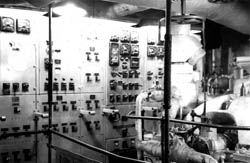 The Captain decided to go around and around the Competent in a racetrack pattern laying smoke and firing the ships guns at the enemy manning the shore batteries. At each end of the racetrack the ship made a starboard turn, listing hard to port. That list resulted in all of the main condenser water rushing away from the condensate pump suction causing the pump to lose suction. An Ensign whose GQ station in the after engine room knew nothing about our engineering plant. So I told him to stay out of the way and that I did not have time to talk to him. He didn't like my tone so I ignored him.

Anyway, when the condensate pump lost suction the result was no water going to the DA tank and the auxiliary exhaust steam line would go from the normal 15 PSI up and up. So I pulled the lever to open the auxiliary exhaust safety valve. Big roar and a big cloud of steam would engulf us all. It scared this poor Ensign almost to death. He climbed up the ladder and left his GQ station. He never came down for GQ again so I guess he got the assignment changed.

After about an hour of this the Competent was in a safe place so we were able to disengage too and get the heck out of there. There was empty brass all over the deck and the magazines were empty. Even the practice projectiles had been shot.

That's the end of my combat story.

OF ALL YOUR DUTY STATIONS OR ASSIGNMENTS, WHICH ONE DO YOU HAVE FONDEST MEMORIES OF AND WHY? WHICH ONE WAS YOUR LEAST FAVORITE?

USS Halsey (DDG-97) holds this distinction for a number of reasons.

I reported to San Francisco Naval Shipyard for further transfer to USS Halsey when sufficient personnel were available. This was early in 1963. The prospective Chief Engineer, the Main Propulsion Assistant, the Electronic Material Officer, and a few others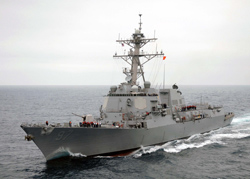 who I cannot remember were already there. We were doing duties like getting ready for commissioning, preparing various systems, creating watch bills and etc. In the midst of this the "Golden Rivet" was put in place. For more detail go to: http://www.halseycg23.com/Rivet.htm

USS Halsey was commissioned on 20 July 1963. We (the crew) then took her to San Diego.

I gradually began to get acquainted with the CPO's and men of the division. As a LDO (Limited Duty Officer) I had to demonstrate my ability and authority, especially to the CPO's working for me. All hands found that I had their welfare at heart and would stick up for them in most circumstances. I never ordered them to do anything that I wouldn't do. For instance: Before a missile exercise I insisted that we collimate both radars. That meant the radar crews had to stay aboard long after liberty was started, sometimes till midnight. When this occurred I would tell them that they didn't have to be back at 7am the XO directed and I would cover for them. The XO and I got into it several times because of this. Anyway, Fox Division people were very loyal to me. The XO must have seen or sensed this loyalty because, he later, let the Department Heads run their own liberty as long as it did not interfere with ship operations.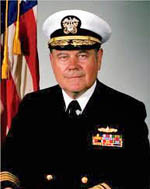 LCDR W.E. Meyer from the Bureau of Weapons was visiting all Terrier equipped ships and came aboard the Halsey to meet with the CO and WO. As he was leaving I cornered him and told him he was probably talking to the wrong people. If he was interested in how the Terrier Systems were doing he should talk to the guys in the trenches. He and I spent about four hours in my stateroom talking about the AN/SPG55B radar. Halsey and USS Worden were the first ships to get the new high powered radars.

My crew wanted to make changes to some of the circuitry in the radars. I set up some rules on how this would be done. When a change was proposed the CPO's and senior men in the division would review each change. I would be the final guy to convince. The technician had to provide written instructions for making the change as well as restoring the circuitry to normal. They had to prepare a list of spare parts and finally a description of the alteration and how it made the radar perform better or the operators job easier. Then we would test it in actual operation. I had each change made documented in a folder that I showed to LCDR Meyer. He didn't say very much then but I received orders to the Applied Physics Lab at John Hopkins University to meet with the leaders in the Terrier field at APL for a few days. My CO, Captain H. H. Anderson approved my going. I think he was in on this by the way he acted. All of our suggested changes were approved at the highest level and I was sent a package of spare parts that we had suggested. Within a year these change were incorporated into official Ord Alts that were installed in all Terrier ships. The Halsey went on to fire many Terrier missiles with a high degree of successful intercepts.

At each duty station thereafter I would hear from W. E. Meyer in the form of temporary orders to accompany him to some destination that he thought my assistance would be beneficial. These destinations included the deployed Pacific fleet when the North Koreans shot down one of our planes in 1968 or 1969, and a few more places.

W. E. Meyer went on to be the "Father of Aegis" and had a ship named after him. He was also promoted to RADM.

WHICH INDIVIDUAL(S) FROM YOUR TIME IN THE MILITARY STAND OUT AS HAVING THE MOST POSITIVE IMPACT ON YOU AND WHY?

RADR Wayne E. Meyer was a good friend, mentor and one of the US Navy's forward thinking officers.

He managed the development and early building of the Navy's primary air-defense weapon system, Aegis, which is employed on 54 destroyers, including one named after him, and 22 cruisers.

WHAT PROFESSION DID YOU FOLLOW AFTER YOUR MILITARY SERVICE AND WHAT ARE YOU DOING NOW? IF YOU ARE CURRENTLY SERVING, WHAT IS YOUR PRESENT OCCUPATIONAL SPECIALTY?

I worked at a hospital engineering job for 8 years. Built houses, farmed oranges then retired completely.

WHAT MILITARY ASSOCIATIONS ARE YOU A MEMBER OF, IF ANY? WHAT SPECIFIC BENEFITS DO YOU DERIVE FROM YOUR MEMBERSHIPS?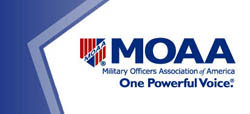 In addition to TWS, I am a member of MOAA Military (Officers Association of America). MOAA is the nation's largest and most influential association of military officers. It is an independent, nonprofit, politically nonpartisan organization. When I first joined it was called TROA (Retired Officers Association) but has since expanded to officers on active duty as well.

Every month I get the MOAA magazine filled with vital information about compensation and benefit matters for all members of the military community. When Congress is contemplating changes to our benefits, inserted in the magazine are self-addressed printed petitions I can pull out and send to the chairmen of the committees voting to not change our benefits.

MOAA also has a lobbying firm in Washington to help promote a strong national defense.

IN WHAT WAYS HAS SERVING IN THE MILITARY INFLUENCED THE WAY YOU HAVE APPROACHED YOUR LIFE AND YOUR CAREER?



I learned commitment to the mission, the US Navy and to our nation. I learned the meaning of teamwork and looking out for my shipmates. I learned to get along with people who were my opposite in background and temperament. I learned a work ethic that served me well while in the Navy and since I retired. And above all, I learned the meaning of honor.

BASED ON YOUR OWN EXPERIENCES, WHAT ADVICE WOULD YOU GIVE TO THOSE WHO HAVE RECENTLY JOINED THE NAVY?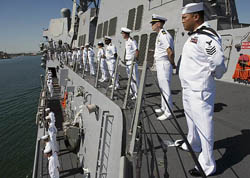 The benefits of joining the US Navy are many. It teaches you to grow up quickly. It teaches you self-discipline and new skills that can prepare you for work when you return to civilian life. It has adventure, travel, good pay and benefits and best of all, an early retirement if you choice to make it a career. I have never regretted that I stayed in as long as I did. When I look back on my career I remember the good and forget the bad.

Whether one hitch or a career it is a tremendous experience that lasts a lifetime.

IN WHAT WAYS HAS TOGETHERWESERVED.COM HELPED YOU REMEMBER YOUR MILITARY SERVICE AND THE FRIENDS YOU SERVED WITH.

Constructing my profile page by listing duty assignments and other facts about my military service brought back the nostalgia I had right after I retired. This was more so when I completed my Reflections.

I also like to look for the stories of those who served in WW II and Korea.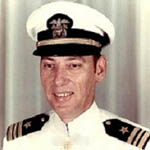 LCDR William Lockie
Contact This Member


Read Other Interviews in the TWS Voices Archive
TWS VOICES
TWS Voices are the personal stories of men and women who served in the US Military and convey how serving their Country has made a positive impact on their lives. If you would like to participate in a future edition of Voices, or know someone who might be interested, please contact TWS Voices
HERE
.
---
This edition of Navy Voices was supported by:
---
Navy.Togetherweserved.com
For current and former serving Members of the United States Navy, TogetherWeServed is a unique, feature-rich resource enabling Naval personnel to re-connect with lost Shipmates, share memories and tell their Navy story.
To join Navy.Togetherweserved.com, please click
HERE
.
---