An up close and personal interview with U.S. Navy Veteran and Togetherweserved.com Member:



CAPT Stephen McCartney U.S. Navy (Ret) (1982-2012)

PLEASE DESCRIBE WHO OR WHAT INFLUENCED YOUR DECISION TO JOIN THE NAVY?

I joined the California Air National Guard in March 1967. After boot camp in San Antonio I was trained in computers but after completing it I asked for lateral transfer to the 146th Aeromedical Evacuation Squadron. I took the Basic Medical Technician (AFSC 90230) training test and passed. Our job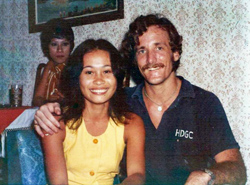 was to transport injured military via a variety of airframes (C-97, C-130 and C-141) and provide inflight care. I worked with many nurses who also were reservists. I was recognized as someone who was interested in learning and I was lucky to have them teach me a lot, much of which I still remember. In 1990 I entered private practice and in my hospital a senior OR nurses was one of them. She remembered me with a little reminding! Sometimes physicians would fly along so I had the chance, on long flights to learn from them.

The totality of it all was that I gained a lot of firsthand knowledge and a major motivation which was key in my career choice to study hard and enter medical school. Twelve years later when I was a surgical resident I worked with many former Navy surgeons and after hearing about their experience, I thought I ought to do the same and have that experience after finishing my surgical training. I saw it as a chance for some adventure as well as a chance to serve my country. I was commissioned Navy Lt. USNR in Dec 1982 while still in training at Harbor UCLA Medical Center.

WHETHER YOU WERE IN THE SERVICE FOR SEVERAL YEARS OR AS A CAREER, PLEASE DESCRIBE THE DIRECTION OR PATH YOU TOOK.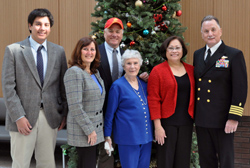 I entered the Navy in 1984 for only three years as I wanted to go into private practice ultimately. The Navy offered me a fully paid fellowship in vascular surgery in 1987 and I took it and thus stayed another three years. I left active duty in 1990 but stayed in USNR-R for 10 years serving as battalion and then regimental surgeon in USMCR.

After 11 years in private practice boredom set in so I decided to return to active duty as my kids were older and we all missed Navy life and the excitement of travel. I received orders to return to active duty June 21, 2001. Three months later September 11 occurred so I stayed on for another 11 1/2 years. I retired December 1, 2012. So what started as a bit of fun and adventure ended up altogether as a 30 year career.

Photo shows my nephew, sister in law, brother, mother and my wife Jane at my retirement ceremony at Camp Lejeune.

IF YOU PARTICIPATED IN COMBAT OPERATIONS, PLEASE DESCRIBE THE ACTIONS WHICH WERE THE MOST SIGNIFICANT TO YOU AND, IF LIFE-CHANGING, IN WHAT WAY.

I was Surgeon in Combined Task Force (CTF) 6th Fleet in Sept 2001 where I was Surgeon aboard the USS Enterprise CVN 65 and with USS Carl Vinson battle groups when the air war for Operation Enduring Freedom (OEF) initiated Oct 7 2001.

In January through June 2003, I was Chief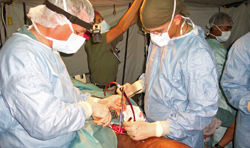 of Medical Staff for Alpha Surgical Company, 1st Force Services Support Group 1st Marine Expeditionary Force. We staged at the Iraqi border in northeast Kuwait and supported the ground war when Operation Iraqi Freedom (OIF) kicked off March 19, 2003. We handled all the combat injuries until other forward companies got into Iraq.

As Force Surgeon for Marine Special Operations Command in July 2006 I was tasked with building the USN medical support for our new command which kicked off with missions in September 2006. In Sept 2007 I deployed with JSOTF -FWD Surgical Support team to Fire Base Ripley (Uruzgan province) in vascular surgery support capacity.

In Jan 2009 I was designated Force Surgeon for 2d Marine Expeditionary Brigade-Task Force Leatherneck which entered Helmand River Valley and instituted combat operations for one year as part of International Security Assistance Force (ISAF).

I was especially proud to serve in these operational commands at a senior level to use my career's worth of experience in trauma and surgery to make a difference and save the lives of soldiers, sailors and Marines. The devastating injuries and those who perished will always remain inside with the most painful of memories.

I found the Afghans, especially the Pashtun culture interesting but also felt that this part of the world was so tragic in its historical destiny that it is truly "Where even God comes to Cry."

OF ALL YOUR DUTY STATIONS OR ASSIGNMENTS, WHICH ONE DO YOU HAVE FONDEST MEMORIES OF AND WHY? WHICH ONE WAS YOUR LEAST FAVORITE?

I largely enjoyed all of my assignments as they seemed to be building blocks for future leadership. If there was a least favorite it was usually due to me not understanding the big picture. Not uncommon to young surgeons who are largely preoccupied with patient care and avoiding complications and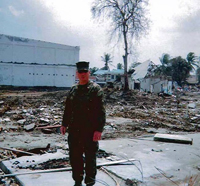 not so much on leadership and Line concerns. In retrospect I wish a wise and patient senior medical officer would have mentored me along the way. I largely did it my own.

I particularly enjoyed my three years in Okinawa immensely as I was with the USMC as III MEF Surgeon. A great tour in a beautiful country which allowed my team to use the skills I learned while in OIF.1 and employ/design policies which would make Navy Medical support for the combatant force better and more responsive. I had immense support from the USMC leadership and had a great staff working with me. I was also a staff surgeon at the USNH where I maintained my skills and responded to some notable emergencies that occurred. The OP tempo was fast and we worked a lot with the ROK military in big exercises (Cobra Gold, RSO&I and UFL).

The Asian tsunami hit and III MEF formed Combined Support Force 536 and coordinated the medical and disaster relief response with a multitude of U.N, International Red Cross NGO's and host nations. We were known as a "Team of Teams" and showed how the military and U.N./NGO can join forces, communicate closely work together as a staff. That experience proved that we can work as force multipliers to minimize human suffering in disasters.

A valuable experience in humanitarian relief and disaster response which ended with the ultimate arrival of the USNS Mercy (day 36) in Indonesia which did immense good for the first perception of the America in a Muslim country.

One place I never wanted to go again was Keflavik, Iceland. Two months there was enough.

I went to Keflavik Naval Hospital to fill in for a surgeon who took a much needed vacation to Rome for a several weeks. It was the "dark side" of the year and there was virtually no sunlight. For four hours a day a dull blue light appeared and that was it. I arrived at 2 p.m. and had already been placed on that night's ER schedule. My first case was a 12 week old baby with a fever. I told the mother I was not trained, nor was I competent to diagnose or treat a neonate.

The staff had a problem with it and many administrative issues arose. The C.O. was an anesthesiologist but tended to always be "back at Norfolk" for a meeting. I don't think he really liked it at Keflavik Naval Hospital. He was nice when I did finally meet him. I got pneumonia due to not being able to get an appropriate winter jacket. My heavy wool pea jacket merely soaked up the moist air and water so I got quite ill. So, I was glad to leave Keflavik. Possibly a tour during the sun laden period may have made the experience a bit better.

FROM YOUR ENTIRE SERVICE CAREER WHAT PARTICULAR MEMORY STANDS OUT?

There are many, but in October 2001, standing on the "Vulther's row" on USS Enterprise in the Arabian Sea watching the Tomcats fly off to bomb targets in Afghanistan is one.

IF YOU RECEIVED ANY MEDALS FOR VALOR OR AWARDS FOR SIGNIFICANT ACHIEVEMENT, PLEASE DESCRIBE HOW THESE WERE EARNED.

I was awarded the Bronze Star for meritorious service as surgeon with Alpha Surgical Company (2003). Alpha Surgical Company's preparation and training allowed us to save life and limb during the first few weeks of OIF.1 (aka OIF "Tac One"). I was especially honored as it came as recognition from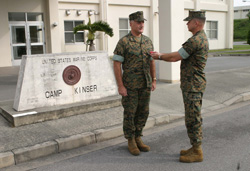 the USMC to Navy Medicine.

I was awarded my first Legion of Merit for meritorious service while in Okinawa as 3d FSSG Surgeon and then III MEF Command Surgeon. My team raised medical readiness thru better and sensible processes. Medical coordination with our partners in Korea was refined. When The Asian tsunami hit, I was the Joint Task Force Surgeon of Combined Support Force 536 which was the major coordinating element of tsunami relief in Indonesia, Thailand and Sri Lanka.

I was awarded my second Legion of Merit (2009) at the completion of my tour as MARSOC Surgeon where the Special Operations Command was stood up in early 2006 by Secretary of Defense. I was the first Navy personnel to report. By my tour?s end our medical team had 193 selected specialists and enlisted medical support to provide the full capacity and skill sets needed for advanced and critical medical needs of our special operators in support of USSOCOM.

I was awarded my third Legion of Merit (2010) for meritorious service as Surgeon for 2d Marine Expeditionary Brigade, a hastily drawn together force of 10,000 Marines and sailors to deploy to the Helmand River Valley( April 2009) for immediate combat operations to employ counterinsurgency, partnering with emerging Afghan National Security Forces and stability operations.

OF ALL THE MEDALS, AWARDS, QUALIFICATION BADGES OR DEVICE YOU RECEIVED, PLEASE DESCRIBE THE ONE(S) MOST MEANINGFUL TO YOU AND WHY?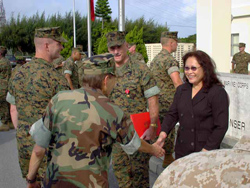 I felt being singled out for the Bronze Star was very meaningful largely because it was awarded by the USMC to a Navy medical officer with a strong professional team behind him making a difference in lives. It reflected their appreciation for the entire Alpha Surgical Company I was honored to serve with. The life and limb salvage and excellent surgical and medical care we rendered was permanently noted in USMC history and I am proud to have been part of it.

WHICH INDIVIDUAL(S) FROM YOUR TIME IN THE MILITARY STAND OUT AS HAVING THE MOST POSITIVE IMPACT ON YOU AND WHY?

I had many who were kind enough to mentor when I asked for it. I knew many who I thought did not embody much as far as leadership, so I also thank them for showing me early on what characteristics I would avoid as I grew as an officer.

I will thank all the USN and USMC SNCOs for their patience in teaching me the many things a good Navy officer should know, keeping me honest and all that is needed to know that so many never seem to learn. They also kept me off the front page of "Navy Times" as well!! Thanks Shipmates!

CAN YOU RECOUNT A PARTICULAR INCIDENT FROM YOUR SERVICE WHICH MAY OR MAY NOT HAVE BEEN FUNNY AT THE TIME, BUT STILL MAKES YOU LAUGH?

As a brand new Lieutenant surgeon at United States Naval Hospital Camp Pendleton in July 1984 I was told on AM rounds by a nice ICU nurse that my summer whites, regardless of the stifling summer heat, required a T shirt underneath. She said my tattoos were showing through. I raced to my office, went to my gym bag and put on a white T shirt and was back on rounds before anyone knew I was gone. Being prior enlisted, and "the hot fill" for a general surgeon needed there at USNH Camp Pendleton, I took the detailer's offer and opted out of officer "knife and fork school" called OIS at Newport, R.I. even though I was always interested in learning "what to do where to do it and how to wear it" etc. I had already driven past a few USMC gate guards and all the trouble that caused so I was perpetually nervous and appreciated anything anyone offered as far as help or guidance.

At noon I was in the officer's galley and noticed a crowd of hundreds of strangers. Quite a few were looking at me, smiling, and some even laughing. I was pleased to finally be warmly recognized as a new guy, fresh out of training and so nicely welcomed. One fellow from way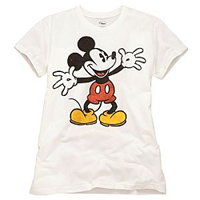 across the room gave me a double 'thumbs up.' I thought that odd but still reveled in the attention and acceptance I was feeling. Half way through my meal a civilian type guy (likely USN retiree) asked me if I knew that 'Mickey Mouse' was showing through my uniform. Looking down I could not really see it, nor did I ever look as my bladder jerked in nervous spasms all of a sudden. I apparently I put on a work out T shirt I originally got at Disneyland and Mickey was showing through 100% of my thin summer white uniform. Thus, I now understood why I had so many "new friends" in the galley. I quickly left and only years later learned from those there that I was deemed to have nothing less than "leather balls" to pull off such a stunt. I was recognized for not showing the least bit of anxiety as I leisurely walked down the aisles with a twelve inch bright colored Mickey Mouse placed on the front of my Navy working summer uniform. Little did anyone know I was completely oblivious and totally clueless. I still laugh at that and most that hear the story and believe it do the same.

WHAT PROFESSION DID YOU FOLLOW AFTER YOUR MILITARY SERVICE AND WHAT ARE YOU DOING NOW? IF YOU ARE CURRENTLY SERVING, WHAT IS YOUR PRESENT OCCUPATIONAL SPECIALTY?

I am a vascular surgeon. I retired from medicine after a great 34 years in 2012.

Reentering private practice is neither attractive nor necessary and I enjoy having a lot more free time and do things with my wife Jane and to do as I please.

WHAT MILITARY ASSOCIATIONS ARE YOU A MEMBER OF, IF ANY? WHAT SPECIFIC BENEFITS DO YOU DERIVE FROM YOUR MEMBERSHIPS?

I am a member of the VFW, AUSN and the American Legion.

I am most active in the American Legion as it is a committed and recognized organization who represents the veteran, whether retired or not,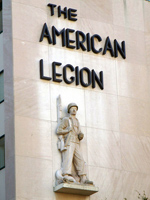 and works to keep the sacrifice of veterans for our country in the forefront.

The makeup of the Congress seems to have a lesser and lesser population of veterans. The promises made and the support needed for benefits to vets, sometimes life long, have to be protected before legislative assaults take them away. The VFW, DAV and Purple Heart Association perform the same job. Too many vets finish up their service and never know what can be done for them, as far as employment, healthcare and other forms of assistance. Many are young and just want to get on with life and leave their service in the rear view mirror. Heartwarming recovery ops for needy isolated veterans from all the wars are the result of a strong and committed veterans service organizations such as those mentioned.

IN WHAT WAYS HAS SERVING IN THE MILITARY INFLUENCED THE WAY YOU HAVE APPROACHED YOUR LIFE AND YOUR CAREER?

It gave me an unshakable sense of patriotism and a love of the young men and women who serve daily.

They didn't have to do it but they serve, they roger up and raise the bar on themselves and sometimes they suffer. If anyone says "they don't make 'em like they used to..." I'll say he or she is absolutely WRONG!

BASED ON YOUR OWN EXPERIENCES, WHAT ADVICE WOULD YOU GIVE TO THOSE WHO HAVE RECENTLY JOINED THE NAVY?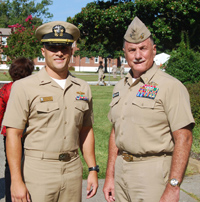 Stay away from slags, mouth breathers and bottom feeders.

Stay with people who love the Navy and love their country.

Stay near those who want to excel and learn from those above you.

Always get as much as you can as far as education, deployments and leadership training and experience.

Travel as much as you can and never forget that wherever life takes you, your time in the US Navy--whether it is four or 40 years, will be great memories and you can say you proudly served your country. You did things and went places others will never see or even dream of....you served in the United States Navy.

Photo is of me and my son, LTJG Stephen McCartney at Sept 2012 Presidential Unit Citation award by SECDEF to 2d Marine Expeditionary Force (TF Leatherneck) 2009-10.

IN WHAT WAYS HAS TOGETHERWESERVED.COM HELPED YOU REMEMBER YOUR MILITARY SERVICE AND THE FRIENDS YOU SERVED WITH.

For starters, it made me recover a lot of data I had recessed in my mind. Good to share it.

TWS is rather new to me but I look forward to looking through it in years to come and find out what certain shipmates are doing, when they retired, what rank they retired as etc. It will be nice to drop them a line.

I hope it grows steadily and we can all use it over the years to stay in touch and also organize reunions as they are desired.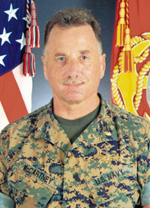 CAPT Stephen McCartney
Contact This Member


Read Other Interviews in the TWS Voices Archive
TWS VOICES
TWS Voices are the personal stories of men and women who served in the US Military and convey how serving their Country has made a positive impact on their lives. If you would like to participate in a future edition of Voices, or know someone who might be interested, please contact TWS Voices
HERE
.
---
---
Navy.Togetherweserved.com
For current and former serving Members of the United States Navy, TogetherWeServed is a unique, feature-rich resource enabling Naval personnel to re-connect with lost Shipmates, share memories and tell their Navy story.
To join Navy.Togetherweserved.com, please click
HERE
.
---