Sonar Technician
TWS Ribbon Bar
Service Photo
Service Details

Current Service Status
USN Veteran
Current/Last Rank
Petty Officer First Class
Current/Last Primary NEC
ST-0401-AN/SQQ-30 Mine Classifying/Detecting Set Maintenance Technician
Current/Last Rating/NEC Group
Sonar Technician
Primary Unit
1989-1991, ST-0401, USS Guardian (MCM-5)
Previously Held NEC
AMS-0000-Aviation Structural Mechanic Structures
STG-0000-Sonar Technician Surface
Service Years
1968 - 1994
Official/Unofficial US Navy Certificates

Order of the Shellback

Plank Owner

Operation Desert Storm

Cold War

Order of the Ditch

Order of the Rock

Persian Excursion

Safari To Suez

Suez Canal
My Map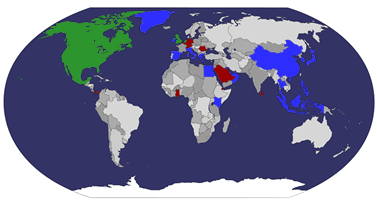 Map Legend:

Vacation&nbsp

Navy&nbsp

Work&nbsp




































Been there ... done that!

Got the t-shirt and the ball cap!
1969-1969, AMS-0000, Naval Air Technical Training Command (Faculty Staff)
1969-1970, AMS-0000, VA-122 Flying Eagles
1971-1972, AMS-0000, VC-5 Checker Tails
1986-1986, Fleet Anti Submarine Warfare Training Center Pacific (FLEASWTRACENPAC)
1986-1986, NTC (Cadre/Faculty Staff) San Diego
1987-1988, STG-0000, USS Oldendorf (DD-972)
1989-1989, Fleet and Mine Warfare Training Center (Faculty Staff)
1989-1991, ST-0401, USS Guardian (MCM-5)
1991-1992, ST-0401, USS Adroit (MSO-509)
1992-1993, ST-0401, USS Devastator (MCM-6)
1992-1994, NLMOD Mayport, Naval Atlantic Meteorology and Oceanography Detachment/Facility (NLMOD/NLMOF)
What are you doing now:
Taking care of the elder folk from my home town.

Other Comments: