Aviation Electronics Technician
TWS Ribbon Bar
Service Photo
Service Details

Current Service Status
USN Veteran
Current/Last Rank
Chief Petty Officer (E-7)
Current/Last Primary Designator/NEC
AT-6668-EA-6B ECM OMA System Analyst
Current/Last Rating/NEC Group
Aviation Electronics Technician
Primary Unit
1978-1979, AT-6668, VAQ-136 Gauntlets
Previously Held Designator/NEC
AT-6658-AN/USM-470(V)1 Automatic Test System (ATS) On-Line Maint. Tech.
Service Years
1959 - 1979
Official/Unofficial US Navy Certificates

Icelandic Domain
What are you doing now:
Not Specified
Other Comments:

My Visited Countries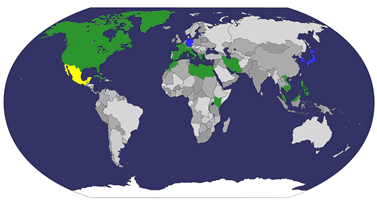 Map Legend: 12%, 33 of 263 Territories

Yellow

Green

Blue

Maroon
































Your map description
From Year
1962
To Year
1962

Last Updated:
Feb 17, 2017
People You Remember
CDR Andrew Serrell, PP2P, LT Don Thune, LT Reid Moon, AT1 Bob Stanga, AE1 George Myers, AO2 Jeff (Snake) Snavely, AT2 Junior Manes, AT3 Dick Nevala, AT3 Ray Beck

Memories
We were called out from Ready Duty. No information about the mission was given before being airborne and no telephones calls to notify our spouses were allowed. We rigged and filmed Russian Ships for two weeks. I had been married for 2 weeks, so Marilyn was initiated very fast on Navy life.