Chief Warrant Officer
TWS Ribbon Bar
Service Photo
Service Details

Current Service Status
USN Retired
Current/Last Rank
Chief Warrant Officer 2
Current/Last Service Branch
Boatswain
Current/Last Primary NEC
711X-Warrant Officer - Boatswain - Surface
Current/Last Rating/NEC Group
Chief Warrant Officer
Primary Unit
2004-2005, 711X, NAVSUBASE Bangor/Trident Refit Facility, Bangor
Previously Held NEC
BM-0000-Boatswain's Mate
MA-9545-Law Enforcement Specialist
HM-9502-Instructor
Service Years
1981 - 2005
Foreign Language(s)


German

Japanese

Official/Unofficial US Navy Certificates

Operation Desert Storm

Cold War

Decommissioning

Icelandic Domain

Neptune Subpoena

Operation Enduring Freedom

Operation Iraqi Freedom

Order of the Antarctic Circle

Order of the Ditch

Order of the Square Rigger

Panama Canal

Plank Owner

Sandbox Sailor Operation Iraqi Freedom

Suez Canal
CWO2 Jantzen Deployment Map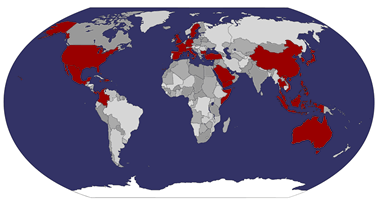 From Month/Year
- / 1997

To Month/Year
- / 2000

Unit
USS Chosin (CG-65) Unit Page

Rank
Chief Petty Officer

NEC
BM-0000-Boatswain's Mate

Location
Pearl Harbor

Country/State
Hawaii
Patch




Hull number CG-65


CLASS - TICONDEROGA (Flight II)
Displacement 9,589 (FL) Tons, Dimensions, 565' 10" (oa) x 55' x 31' 6" (Max)
Armament 2 x 5"/54RF, 2 VLS, (122 Missiles)
2 x 20mm Phalanx CIWS, 2 x 25mm Bushmaster mg. 6 x12.75" TT. 2 LAMPS Helos.
Machinery, 80,000 SHP; G.E. Gas Turbines, 2 screws
Speed, 30+ Knots, Crew 370.
Operational and Building Data
Fabrication commencement 03 AUG 1987 by Ingalls Shipbuilding, Pascagoula, MS
Keel laid on 22 JUL 1988
Launched 01 SEP 1989
Christened 14 OCT 1989
Commissioned 12 JAN 1991
SLEP Induction JUL 2016
Home port: Pearl Harbor, HI



Source: http://www.navsource.org/archives/04/1165/040165.htm
 


Type
Surface Vessels

Existing/Disbanded
Existing

Parent Unit
Surface Vessels USS A-C

Strength
Guided Missile Cruiser

Created/Owned By


YN

Pierson, Al (USview, NTWS Chief Admin), YN2 3752

Last Updated: May 22, 2007

Best Friends
BM1 now BMC (CS or CM??)Rivera, BM1 Walker now BMC, BMC Malamala, Hawaiian guy oh sorry Tongan. There is one more BM1 now BMC but my drugged up mind can't ge his name. But he was the best made Chief transfer to WA.


Other Memories
Fu ride skipper was a hoot!!