| | | |
| --- | --- | --- |
| Service Photo | Service Details | |
| | | |
Last Photo
Personal Details



Home State

| | |
| --- | --- |
| California | |

Year of Birth
1907

This Military Service Page was created/owned by

Carl Mottern (The White Buffalo), AW1

to remember French, Lawrence, CAPT.

If you knew or served with this Sailor and have additional information or photos to support this Page, please leave a message for the Page Administrator(s)

HERE

.

Contact Info

Home Town
Visalia
Last Address
San Diego, California


---

Date of Passing
Feb 09, 1987
Location of Interment
Not Specified
Wall/Plot Coordinates
Not Specified
Last Known Activity

Information gathered from Gary BedingFields Web Site, "Baseball In Wartime".

Larry French
Date and Place of Birth: November 1, 1907 Visalia, California
Died: February 9, 1987 San Diego, California
Baseball Experience: Major League
Position: Pitcher
Rank: Lieutenant
Military Unit: US Navy
Area Served: European and Pacific Theaters of Operations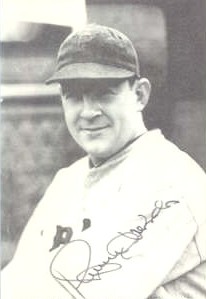 Lawrence H "Larry" French was born in Visalia, California on November 1, 1907. He attended the University of California at Berkeley before embarking on a professional baseball career.

Before entering military service on January 8, 1943, French had won 197 games with the Pirates, Cubs and Dodgers. He appeared in three World Series, was selected for the 1940 National League all-star team, and his .789 winning percentage (15 wins and 4 losses) in 1942 was the circuit's best.

French served as a lieutenant with the US Navy Supply Corps, providing spare parts for landing craft. He played his only service baseball games of the war in England, after arriving there in December 1943. In his first outing in mid-April, French allowed just three hits in an 8-1 win over an opposing Navy team.
Lieutenant French later served on the USS New York during the Okinawa invasion. He was recalled to active service during the Korean War and made the Navy a career, retiring in 1969 having attained the rank of captain.

Larry French passed away in San Diego on February 9, 1987. He was 79.
Other Comments:
Sponsors Note: I recently learned of the Navy service of former Major League Baseball Pitcher, Lawrence "Larry" French. It seems little information is available on his Navy servce, so I would be glad to accept and appreciate any information for inclusion. This profile will be quite incomplete, but is intended to honor Larrys service none the less.








From Month/Year
- / 1944

To Month/Year
- / 1945

Unit
USS New York (BB-34) Unit Page

Rank
Lieutenant

NEC
310X-Supply Corps Officer

Location
Not Specified

Country/State
Not Specified
Patch



New York Class Battleship: Displacement 27,000 Tons, Dimensions, 573' (oa) x 95' 3" x 29' 7" (Max). Armament 10x 14"/45 21 x 5"/51, 56 x 4 x 21" tt. Armor, 12" Belt, 14" Turrets, 3" Decks, 12" Conning Tower. Machinery, 28,100 IHP; Vertical, triple expansion engines, 2 screws Speed, 21 Knots, Crew 1052. Operational and Building Data: Laid down by New York Naval Ship Yard, September 11, 1911. Launched October 30, 1912. Commissioned April 15, 1914. Decommissioned August 29, 1946. Stricken July 13, 1948. Fate: Target During Atomic Bomb Tests, Bikini Atoll, Marshall Islands. Sunk, 40 miles off Oahu, July 8, 1948, by Naval Gunfire and Aircraft.


Type
Surface Vessels

Existing/Disbanded
Decommissioned

Parent Unit
New York-class

Strength
Battleship

Created/Owned By
Not Specified

Last Updated: Jan 5, 2014