Service Photo
Service Details

Last Rank
Vice Admiral
Last Primary NEC
131X-Unrestricted Line Officer - Pilot
Last Rating/NEC Group
Line Officer
Primary Unit
1983-1983, 131X, COMNAVAIRLANT
Service Years
1952 - 1983
Official/Unofficial US Navy Certificates

Cold War

Tailhook
Last Photo
Personal Details



Home State

| | |
| --- | --- |
| Alabama | |

Year of Birth
1930

This Military Service Page was created/owned by Paul Smith-Family to remember Smith, Carol, Jr., VADM.

If you knew or served with this Sailor and have additional information or photos to support this Page, please leave a message for the Page Administrator(s)

HERE

.

Contact Info

Home Town
Greensboro
Last Address
Connecticut House, Admirals Row, Naval Station, Norfolk, Virginia


---

Date of Passing
Oct 14, 1983
Location of Interment
Eastern Shore Chapel Cemetery - Virginia Beach, Virginia
Wall/Plot Coordinates
Not Specified
Last Known Activity
       It has been a pleasure for the "Sponsor" of this profile to honor Vice Admiral C.C. Smith.  Since I began this effort I have learned much about the Admiral that was unknown to me when I was a young sailor aboard USS AMERICA.  I had met the Admiral on a few occasions, mostly when I crewed an HS-15 helicopter in V.I.P. mode to take the Admiral ashore for some function.  He was always pleasant and friendly. But he ALWAYS refused our request to put on a cranial helmet.  I'd tell the Pilots who'd say, "He's an Admiral, he can decide if he doesn't want to wear one".   He would not even use rubber ear plugs.

         Once when some buddies and I were up on the islands "Vultures Row", Admiral Smith left his bridge alone without a Marine escort.  Instead of a formal greeting the Admiral drawled out, "How yaaaaa'llll boyz a doin?"....I wish now I'd been more open to a chance bit of converstion with this great Officer.  I have learned he was a well respected and talented Aviator, Squadron CO, ships Captain, Carrier Group Commander and Naval Air Force Commander.  But best of all I've learned he was just "Plain ole C.C", the guy who had time for everybody, be it Admiral or the guys in the bilges. He was a real character if there ever was one.  

   


      Please enjoy this profile and feel free to contact  me with any info regarding Admiral Smith.  I am in special need of verification info of his ribbon and medal panel which I feel may be incomplete. 
                                                                                                                         Regards,
                                                                                                                      Carl Mottern
                                                                                                                   AW1 USNR RET
                                                                                                             AKA: The White Buffalo



Excerpts from: RA-5C Vigilante Units in Combat, Robert R. Powell





"RAN Lt. John Calhoun and Cdr CC Smith, the commanding officer of RVAH-6, flew 75 missions together over North Vietnam. One of their most significant took place on 16 December 1967, when their photographs revealed the exact location of the infamous 'Hanoi Hilton' prison camp in downtown Hanoi.  Carol C Smith later became an admiral, and he held one of the top aviator jobs in the Navy as Commander Naval Air Forces Atlantic (CNAL)."





 "Supermen"




"By this time the Vigilante had established a fearsome reputation among pilots.  Indeed, there were cases of officers turning down orders to an RVAH squadron out of fear of the aeroplane.  The reputation was not completely undeserved, but came mostly from its early days in the fleet service."…"Psychology also played a part as well.  From the author's personal experience, when the answer to the question of what aeroplane he flew evoked the respons 'Oh wow, aren't Vigilantes awfully difficulty to fly, especially landing on t he ship?', a natural reaction was to stand a little straighter and say, 'Yes, but I can hack it!'  Thus, the unspoken implication was that the pilot was some sort of superman."



"On 14 November 1964, RA-5C BuNo 149308, assigned to Reconnaissance Heavy Attack Squadron NINE (RVAH-9), crashed at NAS Sanford. Both crewmen, LCDR Smith and ADJC Carolyers, ejected."


       Admiral  C.C. Smith passed away suddenly while jogging aboard  Norfolk Naval Station, on 14 October 1983. At the time he was Commander of Naval Air Forces Atlantic Fleet. He is buried at the Eastern Shores Chapel  Cemetary in Virginia Beach, VA. 
Other Comments:
Borrowed fom a  "BIG E" Forum, posted by Sailors who recall their BIG E Skipper fondly: 




               

Carol C. Smith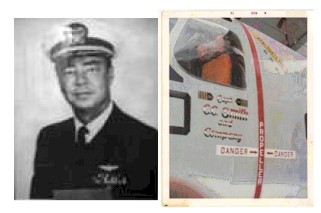 USS ENTERPRISE
Commanding Officer
April 9, 1974 - December 10, 1976
 
      Over the last year, a bunch of us Big E nukes from the mid 70s have been getting back in contact via E mail. You just gotta love the internet!
 
      After all these years, one of the things we still have in common is our respect for our first "Big E" C.O. Capt. Carol C. Smith. Though it's been over 25 years since we served under him, we still speak highly of him and his leadership. Capt Smith believed in working hard and playing hard. But he also believed you had to do the former to earn the latter. He was very big on accountability. He was both respected and liked by the crew. We affectionately referred to him as "Country Chuck" due to his strong Alabama drawl. Everybody had their favorite CC story. He was one of those rare individuals lucky enough to become a legend in his own time.
   
     Unfortunately, Vice Admiral Smith is no longer with us. He passed away on October 14 1983 in front of his home on Admirals Row in Norfolk Va. He was always an avid jogger and died doing what he loved. We felt compelled to share a few of our favorite stories of the finest C.O. any of us can remember. (I can't think of anybody else we'd do this for.)

        "Cap'n CC Smith to me was an inspirational CO; despite countless foul-ups setting condition Zebra during GQ, he always encouraged us to do better without yelling at us. He would also steam like a true sailor, sometimes having to be poured out of a Guerrero taxi on Leyte pier and have to dragged up the officer's brow. When he inspected 4MMR after we painted it baby blue, he calmly said to paint it over, no ass chewing, which was a relief as l was there to see him inspect (which took about a minute).  But my fondest memory of Cap'n Smith was the speech he gave over the 1MC before we commenced launching air strikes against the NVA for the Saigon evac; he basically told us we were all professionals and that all the practice we had undergone was now to be put to use, so let's get busy.  May he rest in peace.
     
      During his party on Grande Island, I was pretty well on my way to being 10 sheets to the wind.  I told C.C. that even though I was only a second class petty officer I would like to shake his hand, congratulate him on becoming an admiral, and tell him how much I appreciated serving under him.  He shook my hand and proceeded to explain to me that I was not "just" a second class petty officer.  He treated everyone as an important person.  CC didn't demand or command respect as most C.O.s did, he earned it from everyone I know that served under him.  The Navy would be a far better place with more leaders like him. 
    
      I seem to recall reading somewhere on this site that Capt. Smiths incoming change of command ceremony was streaked. Whoever wrote that will be happy to learned that his outgoing ceremony where he handed over the keys to Capt. Austin was streaked as well. CC got it coming and going!
    
     One evening in the South China Sea, flight ops were over for the day and I was one of about 15 people watching the sunset at the bow of the flight deck. It was a beautiful evening, a beautiful sunset and people were speaking in hushed tones. I traded several comments back and forth with a chief who was standing slightly behind me. After a while I turned around and saw that I had been talking to Capt. Smith. I must have just called him "Chief" at least 5 times. I then said something stupid like "I'm sorry sir, I didn't mean to call you "Chief"". He looked at me and said," That's OK son. I take it as a compliment. I know who really runs this ship." One heck of a C.O.
      "Remember Cap'n Smith and his early exploits in Hong Kong? He hit it hard for a couple of days before his wife flew in for the remainder of our inport period... I remember once the Captains Launch docked at a pier near where several of us happened to be and all of the "Babes" that were with the Skippers steaming buddies....."
        "CC was a great Captain who knew how to be just like all of us without all the officer airs about him. You knew he was the captain and he was respected but you could talk to him. There was always a story of him turning up somewhere with other sailors at a party or some other activity. He was a hit and popular no matter where he was. He was a sailor, and a sailors kind of  people.

       We all knew what we had lost when Captain Austin took over for him. Kind of like Senator Benson's line to Senator Quayle during their debate "I knew Jack Kennedy. Jack Kennedy was a friend of mine. But I can tell you one thing, Senator, you're no Jack Kennedy". 
   
      "There aren't too many people that we served under that are remembered in the same light as Captain Smith. I still have my Shellback certificate hanging on the wall in the room I do my leather work in. It has Captain Smith signature on the bottom. Glad it was him and not Austin that signed it."
     
     An RM friend went AWOL for two weeks in Olongapo in 74. When he came back to the ship, he had to go to Captains Mast with CC. The Captain instantly recognized him from the previous month when he had presented him with his Good Conduct ribbon. He was ready to cut my buddy some slack until he found out he had come back to the ship while AWOL and picked up his paycheck. The Captain told him basically, "I admire your tenacity Son, but now I've gotta do what I' ve gotta do. Nevertheless, he stopped short of throwing the book at my friend.
       "I know a story of a PPWS (EM) load dispatcher (that remains nameless because of too much mojo I suspect) that reportedly pulled CC from a ditch in Singapore (after a few too many) after which they bonded and spent many together bending elbows / tipping glasses in PI. My hero! Always had the best tan on the ship too! "
       "When we pulled into Hobart in '76, one of the main hangouts was a place called Hadley's in the downtown area. One night Capt Smith was there steaming with a bunch of the fly boys. Their table got a lot of attention from the local groupies. One particularly stunning gal was going around the table asking each officer what it was he did on the Enterprise. When she got to Capt Smith and she asked what he did on the Enterprise, he looked up at her, and with his Alabama drawl said," Lady, I AM the Enterprise!" I bet they don't make C.O.s like that any more."
Looking at what we have written, we have to admit : Nobody in the 70s would have ever believed that we would one day write kind words about an officer. None of us were exactly Joe Navy, and we dont recall any of us ever being up for "Man of the Month" Nevertheless, we just had to share our respect for this individual. Life aboard a carrier (especially for a nuke) will never be a piece of cake, but the chain of command can go a long way to make it better or worse. CC, we thank you for your inspired leadership.
CC.  

                                                                         CCs' Company







From Month/Year
- / 1973

To Month/Year
- / 1974

Unit
USS San Jose (AFS-7) Unit Page

Rank
Captain

NEC
131X-Unrestricted Line Officer - Pilot

Location
Not Specified

Country/State
Not Specified
Patch



Hull number AFS-7


Type
Surface Vessels

Existing/Disbanded
Redesignated

Parent Unit
Surface Vessels

Strength
Auxiliary

Created/Owned By


RM

Balija, Ed, RM2 9

Last Updated: May 8, 2011
Chain of Command
Was CO of USS San Jose