Service Photo
Service Details

Last Rank
Lieutenant Junior Grade
Last Primary NEC
131X-Unrestricted Line Officer - Pilot
Last Rating/NEC Group
Line Officer
Primary Unit
1942-1942, USS Enterprise (CV-6)
Service Years
1938 - 1942
Official/Unofficial US Navy Certificates

Order of the Golden Dragon

Panama Canal
Last Photo
Personal Details



Home State

| | |
| --- | --- |
| Idaho | |

Year of Birth
1915

This Military Service Page was created/owned by

Bersley H. Thomas, Jr. (Tom), SMCS

to remember Eversole, John Thomas (Navy Cross), LTJG.

If you knew or served with this Sailor and have additional information or photos to support this Page, please leave a message for the Page Administrator(s)

HERE

.

Casualty Info

Home Town
Pocatello
Last Address
Not Specified

---

Casualty Date
Jun 04, 1942
Cause
Hostile, Died
Reason
Air Loss, Crash - Sea
Location
Midway Islands
Conflict
World War II/Asiatic-Pacific Theater/Central Pacific Campaign (1941-43)/Battle of Midway
Location of Interment
Not Specified
Wall/Plot Coordinates
Not Specified
1940-1940, Naval Aviation Preflight Indoctrination (API), NAS Pensacola, FL
1940-1941, Advanced Flight Training, NAS Meridian, Mississippi.
1941-1942, VT-6/VTB-6 (WW II)
1942-1942, 131X, Commander, Naval Air Force, U.S. Pacific Fleet (COMNAVAIRPAC)
1942-1942, USS Enterprise (CV-6)
Last Known Activity

VT-6

TBD Devestator





USS Enterprise (CV-6)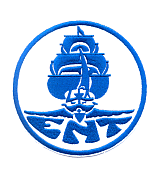 Comments/Citation



"For extraordinary heroism and courageous devotion to duty while piloting an airplane of Torpedo Squadron Six in action against the enemy Japanese forces in the Battle of Midway on 4 June 1942 participating in vigorous and intensive assault against the Japanese Invasion Fleet, Lt. (j.g.) Eversole pressed home his attack with relentless determination. In the face of terrific barrage of anti-aircraft fire the unprecedented conditions under which his squadron launched its offensive were so exceptional that it is highly improbable the occasion may never recur where other pilots of the service will be called upon to demonstrate an equal degree of gallantry and fortitude. His extreme disregard of personal safety contributed materially to the success of our forces and his loyal conduct was in keeping with the highest traditions of the United States Naval Force."


NAMESAKE

USS Eversole (DE-404)


During the Battle of Leyte Gulf, when a decisive victory was won after great hazard to the escort carriers and their screens, Eversole screened two of the damaged carriers, rescued downed pilots, and took wounded off one of the carriers. In the early morning of 28 October, Eversole made contact by sonar with a submarine, and only half a minute later suffered the first of two torpedo hits. The ship was ordered abandoned, and after the men were all in the water, the submarine surfaced and opened fire, then dived once more. Five minutes later there was a tremendous underwater explosion which killed or wounded all of Eversole's men. Lights from the survivors' flashlights attracted two other escorts, one of which rescued the 139 wounded survivors, as the other began a series of attacks which sank I-45, presumably the Japanese submarine which had torpedoed Eversole.


USS Eversole (DD-789)




a Gearing-class destroyer of the United States Navy, the second Navy ship named for Lieutenant (junior grade) John T. Eversole (1915–1942), a naval aviator who was killed in the Battle of Midway.
On 11 July 1973, Eversole was transferred to Turkey. She served in the Turkish Navy as TCG Gayret (D-352). Gayret was stricken in 1995. She is preserved as a museum ship at Ýzmit, Turkey.
Eversole received seven battle stars for Korean War service.