| | | |
| --- | --- | --- |
| Service Photo | Service Details | |
| | | |
Last Photo
Personal Details



Home State

| | |
| --- | --- |
| New York | |

Year of Birth
1890

This Military Service Page was created/owned by

Michael D. Withers (Mike), OSCS

to remember Blandy, William H.P., ADM USN(Ret).

If you knew or served with this Sailor and have additional information or photos to support this Page, please leave a message for the Page Administrator(s)

HERE

.

Contact Info

Home Town
Not Specified
Last Address
New York


---

Date of Passing
Jan 12, 1954
Location of Interment
Not Specified
Wall/Plot Coordinates
Not Specified
Last Known Activity

William H. P. Blandy graduated 1st in his class from the Naval Academy in 1913. He participated in the occupation of Veracruz in 1914 and served on board a battleship with the British Grand Fleet during World War I.

During World War II he was Chief of the Bureau of Ordnance; Commander, Group 1, Amphibious Force, Pacific Fleet; and Commander, Cruisers and Destroyers, Pacific Fleet. After the war he commanded JTF 1 during the atomic bomb tests at Bikini Atoll. He commanded the 2nd Task Fleet and later served as Commander-in-Chief, Atlantic Fleet.

He was a veteran of both World Wars as well as Vera Cruz, Mexico. He is, however, most known for overseeing the atomic bomb tests at Bikini Island in the Pacific Ocean.
Other Comments: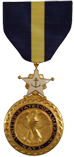 Navy Distinguished Service Medal
The President of the United States of America takes pleasure in presenting the Navy Distinguished Service Medal to Rear Admiral William Henry Purnell Blandy, United States Navy, for exceptionally meritorious and distinguished service in a position of great responsibility to the Government of the United States as Chief of the Bureau of Ordnance from 19 February 1941 to 9 December 1943. During the period of intensive preparedness prior to our entry into the war and since the actual outbreak of hostilities, Rear Admiral Blandy, by keen foresight and sound analysis, successfully formulated and executed plans for rapid expansion of all ordnance activities incident to the effective prosecution of full-scale naval warfare. Under his thorough and resourceful administration urgent organizational problems were competently solved and vital armament requirements adequately fulfilled with maximum efficiency and minimum delay. His forceful initiative and superior technical skill contributed materially to the progressive effectiveness of our coordinated war effort and were in keeping with the highest traditions of the United States Naval Service.
Action Date: February 19, 1941 - December 9, 1943
Service: Navy
Rank: Rear Admiral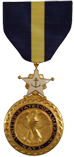 Navy Distinguished Service Medal
Awarded for actions during the World War II

The President of the United States of America takes pleasure in presenting a Gold Star in lieu of a Second Award of the Navy Distinguished Service Medal to Rear Admiral William Henry Purnell Blandy, United States Navy, for exceptionally meritorious and distinguished service in a position of great responsibility to the Government of the United States while organizing and commanding the assault force engaged in the amphibious attack on Japanese-held Angaur Island during the period of July to September 1944. Rear Admiral Blandy displayed outstanding ability in forming, training, and operating his force. Under his aggressive direction the assault of Angaur was brought to a rapid and completely successful conclusion. His personal courage, determination, and excellent leadership throughout were in keeping with the highest traditions of the United States Naval Service.
Action Date: July - September 1944
Service: Navy
Rank: Rear Admiral


NAME SAKE
USS BLANDY (DD-943)

1913-1914, USS Florida (BB-30)
1914-1915, USS Florida (BB-30)
1915-1918, USS Florida (BB-30)
1918-1918, USS Florida (BB-30)
1918-1919, Naval Attache Office (NAO) London, Naval Attache/Asst Naval Attache
1919-1919, Bureau of Ordnance
1921-1922, USS New Mexico (BB-40)
1922-1923, USS Vega (AK-17)
1923-1924, USS Pruitt (DD-347)
1924-1925, USS Stewart (DD-224)
1925-1927, Bureau of Ordnance
1927-1929, USS New Mexico (BB-40)
1929-1930, USS West Virginia (BB-48)
1930-1934, Naval Attache/Asst Naval Attache, CNO - OPNAV
1934-1938, USS Simpson (DD-221)
1935-1936, Commander, Destroyer Division 10 (COMDESDIV 10), Commander Destroyers, Battle Force
1936-1939, USS Utah (AG-16)
1939-1941, Bureau of Ordnance
1941-1943, Bureau of Ordnance
1943-1944, Commander Amphibious Group One (COMPHIBGRU 1)
1944-1945, Commander, Amphibious Support Force, Commander Amphibious Force, US Seventh Fleet
1944-1945, USS Estes (AGC-12)
1945-1945, Commander, Cruiser-Destroyer Force, Pacific Fleet
1945-1946, Joint Task Force-1 (JTF-1)
1946-1947, COMSECONDFLT
1947-1950, Commander, US Fleet Forces Command (COMUSFLTFORCOM)