Service Photo
Service Details

Last Rank
Lieutenant Junior Grade
Last Primary NEC
131X-Unrestricted Line Officer - Pilot
Last Rating/NEC Group
Line Officer
Primary Unit
1968-1968, 139X, VT-10 Wildcats
Service Years
1964 - 1968
Official/Unofficial US Navy Certificates

Cold War
Last Photo
Personal Details



Home State

| | |
| --- | --- |
| California | |

Year of Birth
1945

This Military Service Page was created/owned by

Bersley H. Thomas, Jr. (Tom), SMCS

to remember Karger, Barry Edwin, LTJG.

If you knew or served with this Sailor and have additional information or photos to support this Page, please leave a message for the Page Administrator(s)

HERE

.

Casualty Info

Home Town
Prather
Last Address
Prather


---

Casualty Date
May 14, 1968
Cause
Hostile, Died
Reason
Air Loss, Crash - Land
Location
Vietnam, North (Vietnam)
Conflict
Vietnam War
Location of Interment
National Memorial Cemetery of Arizona - Phoenix, Arizona
Wall/Plot Coordinates
60E 013 / Section 43 Site 1188
Last Known Activity

VA-93, CVW-5, USS BON HOMME RICHARD
USS Bon Homme Richard (CV/A-31), the second United States Navy ship of that name, was named in honor of John Paul Jones' famous frigate, usually rendered in more correct French as Bonhomme Richard, to honor Benjamin Franklin, the American Commissioner at Paris whose almanac, Poor Richard's Almanac had been published in France under the title Les Maximes du Bonhomme Richard. As her sister Essex-class ship the Franklin was also named in honor of Benjamin Franklin, he was therefore the only person ever to have two commissioned US Navy warships named in his honor at the same time.



ATTACK SQUADRON 93

DOUGLAS A-4 SKYHAWK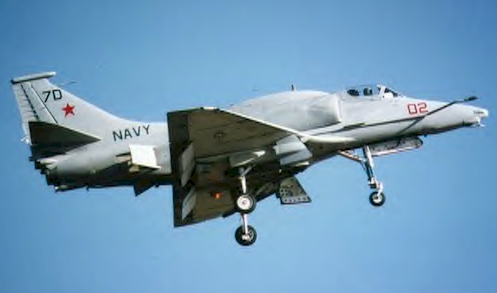 Comments/Citation
Vietnam Wall Panel coords 60E 013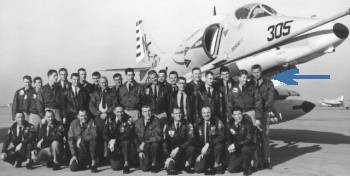 VA-93 Squadron Photo, January 1968, San Diego. Arrow points to LTJG Barger.
"On May 14, 1968, Lieutenant Barry Karger was assigned a strike mission over Quang Binh province, North Vietnam in A-4F Skyhawk BuNo. 154198, side number NF 304. During this mission something terrible went wrong and Lieutenant Karger did not return to Bon Homme Richard."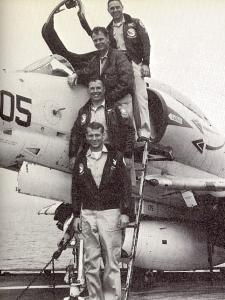 From top to bottom CDR Bob Wilson, LTJG Sam Schneider, LCDR Mike Trout, and LTJG Barry Karger. Photo from the 1968 cruise book.


1964-1968, 131X, Commander Navy Reserve Forces Command (COMNAVRESFORCOM)
1965-1965, 139X, Naval Aviation Preflight Indoctrination (API), NAS Pensacola, FL
1966-1966, 139X, Advanced Flight Training Course
1967-1968, 131X, VA-93 Blue Blazers/Ravens
1967-1968, 131X, USS Bonhomme Richard (CVA-31)
1968-1968, 139X, VT-10 Wildcats