Service Photo
Service Details

Last Rank
Commander
Last Primary NEC
131X-Unrestricted Line Officer - Pilot
Last Rating/NEC Group
Line Officer
Primary Unit
1967-1968, USS Yorktown (CVS-10)
Service Years
1948 - 1968
Last Photo
Personal Details



Home State

| | |
| --- | --- |
| New Jersey | |

Year of Birth
1926

This Military Service Page was created/owned by

Bersley H. Thomas, Jr. (Tom), SMCS

to remember Hubbs, Donald Richard, CDR.

If you knew or served with this Sailor and have additional information or photos to support this Page, please leave a message for the Page Administrator(s)

HERE

.

Casualty Info

Home Town
Palmyra
Last Address
Palmyra


---

Casualty Date
Mar 17, 1968
Cause
Hostile, Died while Missing
Reason
Air Loss, Crash - Sea
Location
Vietnam, North (Vietnam)
Conflict
Vietnam War
Location of Interment
Barrancas National Cemetery - Pensacola, Florida
Wall/Plot Coordinates
45E 012
Last Known Activity



Antisubmarine Squadron 23,
USS YORKTOWN, TF 77, 7TH FLEET





USS Yorktown (CV/CVA/CVS-10)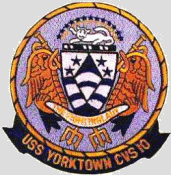 "OCEAN WAVE"



VSF-23



GRUMMAN S-2 Tracker
Comments/Citation

The Hurt of One is the Hurt of All . . .



ONALD RICHARD HUBBS
As submarine action in Vietnam was virtually (if not completely) unknown, a wide variety of activities were conducted by Anti-submarine units in Vietnam. Because Anti-submarine warfare involves the use of magnetic detection gear or acoustic buoys in conjunction with "listening" devices, anti-submarine aircraft and the crews' training proved especially adaptable to reconnaissance and tracking missions.
On March 17, 1968, Hubbs and his crew launched from the YORKTOWN on a night surveillance mission over the North Vietnam coast in the area of Vinh. Weather was bad with zero visibility. Approximately one hour after launch, the aircraft reported radar problems. No other transmissions were heard, and the aircraft disappeared from the ship's radar scope. All efforts to make contact were unsuccessful. However, five hours after the last contact, radio signals were heard, and North Vietnamese fishing boats were spotted in the area the next day.
The last point of contact occurred about 30 miles off the shore of North Vietnam about 25 miles east southeast of the island of Hon Me.
On July 2O, 1968, a section of the starboard wing was found. During the period of July, 1973, through September, 1973, an over water/at-sea casualty resolution operation was conducted to determine the feasibility and desirability of such water loses. These operations were terminated when it was determined to be unfeasible and nonproductive in such cases. Commander Hubbs and the rest of his crew are still carried in the status of Presumed Dead/Remains non-recoverable.