| | | |
| --- | --- | --- |
| Service Photo | Service Details | |
| | | |
Last Photo
Personal Details



Home State

| | |
| --- | --- |
| New Jersey | |

Year of Birth
Not Specified

This Military Service Page was created/owned by

Bersley H. Thomas, Jr. (Tom), SMCS

to remember McClyment, Richard, MM3c.

If you knew or served with this Sailor and have additional information or photos to support this Page, please leave a message for the Page Administrator(s)

HERE

.

Casualty Info

Home Town
Not Specified
Last Address
Not Specified

---

Casualty Date
Jun 06, 1944
Cause
Hostile, Died
Reason
Other Explosive Device
Location
France
Conflict
World War II/European-African-Middle Eastern Theater/Normandy Campaign (1944)/Operation Overlord
Location of Interment
Not Specified
Wall/Plot Coordinates
Not Specified
1943-1943, RTC Great Lakes, IL (Company Commander/Staff)
1943-1943, Service Schools Command (Faculty Staff)/SSC (Cadre/Faculty Staff) Great Lakes, ILL
1943-1943, (MM) Machinist's Mate A School
1944-1944, USS Corry (DD-463)
1944-1944, Commander in Chief US Naval Forces Europe (CINCUSNAVEUR)/Commander US Naval Forces Europe (COMUSNAVE
1944-1944, MM-0000, Commander in Chief US Naval Forces Europe (CINCUSNAVEUR)/Commander US Naval Forces Europe (COMUSNAVE/Commander, Task Force 125 (CTF 125)
Last Known Activity

FINAL DUTY ASSIGNMENT

U.S.S. Corry (DD-463)


Corry Battle Flag
One of the most stirring tales of D-Day is that to which the Secretary of the Navy has already referred, the tale of the USS Corry. ...while blasting enemy positions on Utah Beach, the Corry began to go under. But one man stayed aboard. He climbed the stern, removed the flag, and swam and scrambled to the main mast. There, he ran up the flag. And as he swam off, our flag opened into the breeze. In the Corry's destruction, there was no defeat. Today, the wreckage of that ship lies directly beneath us, an unseen monument to those who helped to win this great war. Thirteen of the Corry's crew rest there as well, and these waters are forever sanctified by their sacrifice.






On March 17, 1944, during hunter-killer patrol with the aircraft carrier USS Block Island (CVE-21), off northwest Africa near the Cape Verde Islands, the USS Corry's depth charges forced the German submarine U-801 to the surface where the sub was fired on and sunk by USS Corry and USS Bronstein (DE-189). This sinking was the result of a two-day pursuit that began with a strafing of U-801 by Block Island aircraft, an excellent example of the hunter-killer teams in action against Hitler's U-boats. Forty-seven U-801 survivors were taken as prisoners of war.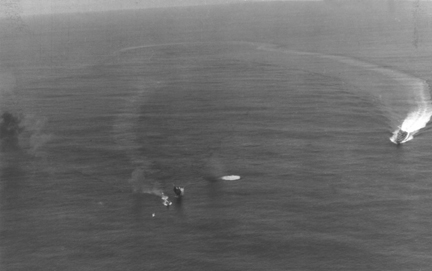 USS Corry (right) closing in and firing on U-801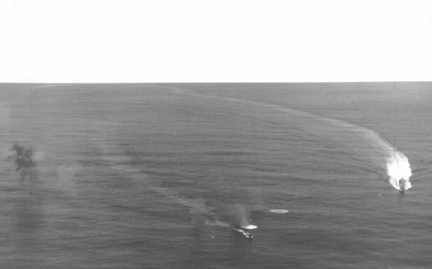 USS Corry (right) closing in and firing on U-801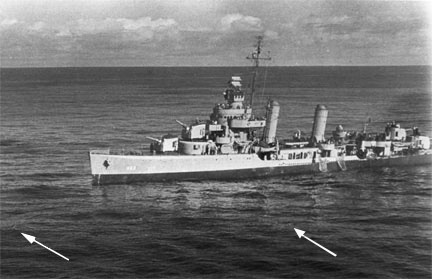 USS Corry picking up two U-boat survivors (arrows)
from U-801. 17 March 1944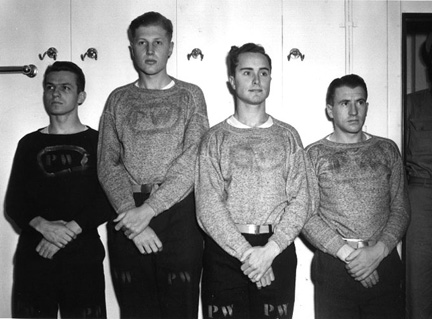 Prisoners of War -- U-801 Officers (L to R):
Oberfeldwebel Ernst Freudig;
Leutnant Fritz Buschmann, First Watch Officer;
Leutnant Günther Kempkes, Second Watch Officer;
Stabsobermaschinist Karl Ernst Paustian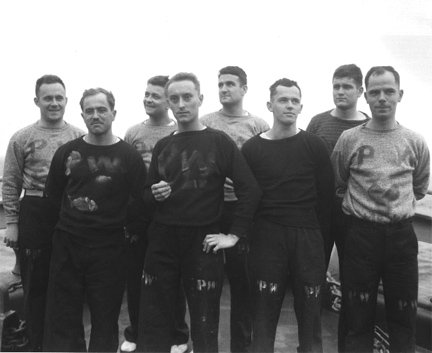 U-801 Petty Officers [National Archives photo]
Identified:
Bootsmaat Horst Gerlach - front row, first from the left
Maschinenmaat Erich Wagner - back row, first from the right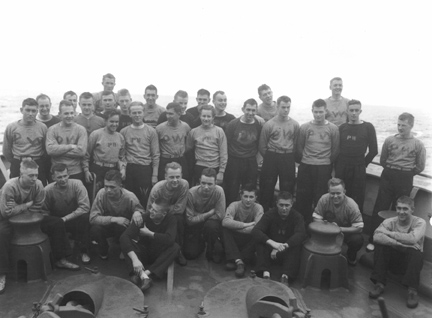 U-801 enlisted personnel prisoners of war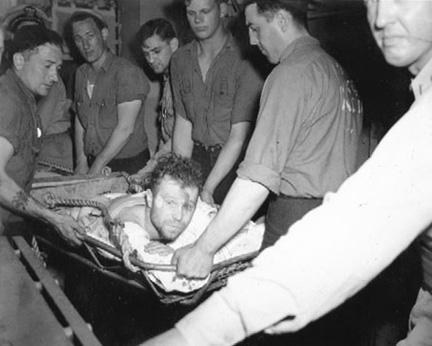 Wounded U-801 POW Maschinenmaat Karl Heinz Schultz


Comments/Citation

USS Corry (DD-463)
June 6, 1944 — D-Day
Utah Beach, Normandy, France

After leading the massive Allied invasion force across the English Channel to France, in the early morning hours of June 6, 1944, off Utah Beach the destroyer USS Corry engaged in fierce combat with German artillery firing from the Normandy shore. A prime target at the front of the invasion force, the Corry drew sustained shelling for more than an hour while successfully evading major damage. Getting as close as 1,000 yards from the beach, she fired several hundred rounds of 5-inch ammunition at numerous Nazi targets. As H-Hour neared (0630), when troops would begin fighting their way onto the beaches, two Allied planes began generating smoke screens between the shore batteries and bombarding warships to conceal the ships from enemy fire. While other frontline destroyers and rear vessels were receiving smoke cover, the plane assigned to lay smoke for the Corry suddenly got shot down, leaving the Corry fully exposed to German gunners who were now firing at her in full fury. At just about H-Hour, while attempting to evade intense enemy fire, the Corry suffered direct heavy-caliber artillery hits in her engineering spaces amidships. Men were thrown from their positions. Steam hissed and roared violently from behind the bridge. With her rudder jammed she went around in a circle before all steam was lost. Still under heavy fire, the Corry began sinking rapidly with her keel broken and a foot-wide crack across her main deck amidships. After the order to abandon ship, crewmembers fought to survive in bone-chilling water for more than two hours as they awaited rescue under constant enemy fire from German shore gunners. One crewmember raised the American flag up the sinking Corry's main mast, which remained above the surface of the shallow 30-foot deep water when the ship settled on the bottom. The ship blast along with casualties suffered out in the water resulted in 24 crewmen giving their lives and at least 60 being wounded. For USS Corry survivors, the morning of June 6, 1944 was one harrowing experience they'd never forget.