Service Photo
Service Details

Current Service Status
USN Veteran
Current/Last Rank
Petty Officer Third Class
Current/Last Primary NEC
RD-0000-Radarman
Current/Last Rating/NEC Group
Radarman
Primary Unit
1965-1966, SN-0000, USS Alex Diachenko (APD-123)
Previously Held NEC
SR-0000-Seaman Recruit
SN-0000-Seaman
Service Years
1965 - 1970
Foreign Language(s)


Spanish

Official/Unofficial US Navy Certificates

Gulf of Tonkin Yacht Club

Order of the Golden Dragon
What are you doing now:
I taught Aikido at the University of Arizona, Department of Campus Recreation. I taught a Basic Level class and an Int/Adv Level. In January of 2017, stepped down from being the Chief Instructor and turned the class over to my Former student, Michael Pajor, Shodan. I am still involved but I am now the Senior Instructor Emritus.
Due to the sudden death of Michael A. Pajor, Shodan at the beginning of January, 2019, I have had to resume my position as Chief Instructor of the Aikido classes at the Unniversity of Arizona.

Other Comments:
Not Specified
Homeland and places I have visited in the Navy and as a Tourist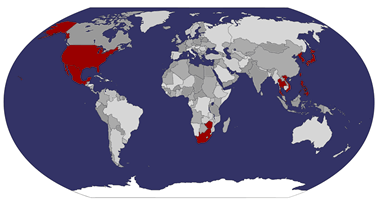 1965-1965, SR-0000, NTC (Cadre/Faculty Staff) Great Lakes, ILL
1965-1966, SN-0000, USS Alex Diachenko (APD-123)
1966-1966, RD-0000, (GS) A School, Great Lakes, IL
1966-1969, RD-0000, USS Arnold J. Isbell (DD-869)
1969-1970, RD-0000, USS Blue (DD-744)
1984, Vietnam Veterans of America (VVA), Chapter 106 (Member) (Tucson, Arizona) [Verified] - Chap. Page
2001, American Legion [Verified] - Assoc. Page
2004, Veterans of Foreign Wars of the United States (VFW), Post 10188, Casas Adobes Post (Member) (Tucson, Arizona) [Verified] - Chap. Page
2016, Disabled American Veterans (DAV) [Verified] - Assoc. Page
2018, Blue Water Navy Vietnam Veterans Association