Aviation Ordnanceman
TWS Ribbon Bar
Service Photo
Service Details

Current Service Status
USN Veteran
Current/Last Rank
Petty Officer Second Class
Current/Last Primary NEC
AO-8327-A-7 BB Stacker
Current/Last Rating/NEC Group
Aviation Ordnanceman
Primary Unit
1976-1978, AO-8327, VA-82 Marauders
Previously Held NEC
AN-0000-Airman
AO-8286-SP2-E Aviation Ordnanceman
AO-6801-Air Launch Weapons Technician
AO-6802-Strike Intermediate Armament Maintenanceman
AO-6811-Armament Weapons Support Equipment Technician
Service Years
1973 - 1980
Official/Unofficial US Navy Certificates

Cold War

Gulf of Tonkin Yacht Club

Neptune Subpoena

Order of the Rock

Order of the Spanish Main

Order of the Shellback

Order of the Golden Dragon

Plank Owner
What are you doing now:

Fire Marshal

: responsible for all aspects of fire safety for the Dept of Juvenile Justice facilities through out the state.  Retired from the Department of  Health and Environmental Control as a Deputy Fire Marshal doing Federal Investigations for the Centers for Medicare-Medicaid Services.  
Other Comments:

45 years in the Fire Service in various positions from tailboard Firefighter to Chief  & Fire Instructor, now a Fire Marshal with 4 years in the Highway Patrol inbetween. First firefighting class was at RTC San Diego, never did I think it would be a career.  First job in Law Enforcement was as Base Security at NAS Key West.  As a Fire Marshal I have combined my Fire Service and Law Enforcement careers.
 
My Navy Adventure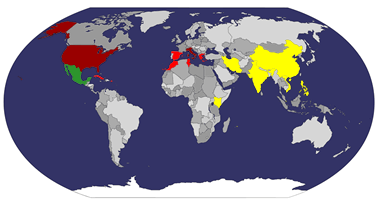 Map Legend:

VA-82 on USS Nimitz&nbsp

USS Enterprise&nbsp

Before the service&nbsp

HOME&nbsp




















Allen, George, LTJG

, (1943-1946)

Batzler, John, RADM

, (1955-1987)

Begley, Edward, S2c

, (1916-1920)

Belafonte, Harold, S2c

, (1943-1945)

Blassman, Frederick, PO2

, (1941-1946)

Bond, Thomas, PO3

, (1941-1945)

Burrell, Stanley, PO3

, (1981-1984)

Canutt, Enos, S1c

, (1918-1919)

Goldenberg, Emanuel, S1c

, (1914-1918)

Golenor, John, LT

, (1951-1955)

Gordon, Gale, LTJG

, (1965-1968)

Gray, Louis, CAPT

, (1940-1960)

Harvey, Friestone, LTJG

, (1914-1918)

Keating, Timothy, ADM

, (1971-2009)
---
1973-1973, AN-0000, RTC (Cadre/Faculty Staff) San Diego, CA
1973-1974, AO-8286, Naval Air Technical Training Command (Faculty Staff)/NATTC (Faculty Staff) Millington, TN
1974-1974, AO-6801, Alameda (Faculty Staff)/NAMTRADET 4031 (Faculty Staff)
1974-1975, AO-6801, USS Enterprise (CVAN-65)
1974-1976, AO-6801, USS Enterprise (CVN-65)
1976-1976, AO-8327, NAS Cecil Field (Faculty Staff)/NAMTRADET 1034 (Faculty Staff)
1976-1976, AO-8327, VA-174 Hell Razors
1976-1978, AO-8327, VA-82 Marauders
1977-1978, AO-6801, VA-174 Hell Razors
1978-1978, AO-6802, Mayport, FL (Faculty Staff)/NAMTRADET 4030 (Faculty Staff)
1978-1979, AO-6811, NAS Key West/Weapons Department
1979-1980, AO-6811, NAS Key West
2011-Present, AO-6802, VFA-82 Marauders
1980, United States Navy Memorial [Verified] - Assoc. Page
1985, United States Naval Institute [Verified] - Assoc. Page
2003, Navy Together We Served [Verified]
2005, A-7 Corsair II
2006, USS Enterprise (CVAN/CVN-65) Association [Verified]2
2009, American Legion, Post 90 (Chaplain) ( West Columbia, South Carolina) [Verified] - Chap. Page
2011, NTWS Unit Historian [Verified]
2015, Blue Water Navy Vietnam Veterans Association [Verified]
2015, Forty & Eight, Voiture 1211 (Chaplain) (South Carolina) [Verified]1 - Chap. Page
2016, National Rifle Association (NRA)
2016, TWS Memorial Team [Verified]
2018, Navy TWS Advisory Group (NTAG) [Verified]