Service Photo
Service Details

Current Service Status
USN Active
Current/Last Rank
Senior Chief Petty Officer (E-8)
Current/Last Primary Designator/NEC
AO-6801-Air Launch Weapons Technician
Current/Last Rating/NEC Group
Aviation Ordnanceman
Current/Last Duty Station
2012-2016, AO-4296, USS Harry S. Truman (CVN-75)
Previously Held Designator/NEC
AO-0000-Aviation Ordnanceman
8347-S-3B System Organizational Maintenance Technician
9502-Instructor
AO-9502-Instructor
AO-4296-Shipboard Elevator Hydraulic/Mechanical System Mechanic
Service Years
1994 - Present
Unofficial US Navy Certificates

Decommissioning

Iwo Jima

Operation Enduring Freedom

Operation Iraqi Freedom

Order of the Shellback

Persian Excursion

Suez Canal
What are you doing now: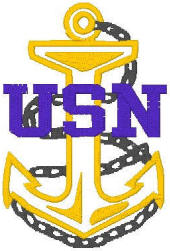 glitter-graphics.com
"Never Forget our Sailors, for they are greatest and most valuable asset in The Navy; we must treat them as such."

October 2008: Recently detached from USS KITTY HAWK; on our way to Sunny Florida for Shore Duty after 6 1/2 years on FDNF/Aurdous Duty in Japan...

March 2009-Present: CURRENTLY IN SUNNY NATTC PENSACOLA FLORIDA, SERVING AS AO(A1) "A" SCHOOL CIRRICULUM CHIEF/AOA1 INSTRUCTOR NATTC AND MECHANICAL DEPARTMENT CAREER COUNSELOR... I. Y. A. O. Y. A. S.!!!

July 2010: Currently AO Schoolhouse Course Supervisor... HooYAH Ordies - HooYAH CHIEFS!

Other Comments:
I would like to hear from all of my shipmates I served/currently serving with; it would be great to hear from you all. It's me: T-Bong.
"Opportunities are usually disguised as hard work, so most people don't recognize them."
- Ann Landers
1993-1994, RTC Orlando FL
1994-1994, AO-0000, Naval Aviation Schools/(AO) Aviation Ordnanceman A School
1994-1994, Naval Air Technical Training Command (NATTC)/NATTC Millington
1994-1994, RTC Orlando FL
1994-1995, 8347, Naval Training Support Detachment/Department/San Diego
1995-1998, 8347, USS Independence (CV-62)
1995-1999, 8347, VS-21 Fighting Redtails
1998-1998, 8347, USS Kitty Hawk (CV-63)
1999-2002, 8347, VS-41 Shamrocks
2002-2005, 8347, VS-21 Fighting Redtails
2005-2008, AO-6801, USS Kitty Hawk (CV-63)
2008-2009, 9502, Naval Air Technical Training Command (NATTC)/NATTC Pensacola FL
2009-2009, AO-9502, Journeyman Instructor Training Course
2009-2009, Naval Education and Training Command (NETC)/Naval Education & Training Program Development & Technology Center ((NETPDTC)
2009-2012, AO-9502, Naval Air Technical Training Command (NATTC)/NATTC Pensacola FL
2012-2012, AO-6801, Norfolk VA
2012-2016, AO-4296, USS Harry S. Truman (CVN-75)
KITTY HAWK's FINAL BURIAL AT SEA8
Roger Joyner's Retirement Ceremony & Night Out 200510
My Middle One's First Day of School 2006 (Sure Start)2
FIRST CLASS DAYS (All on KITTY HAWK)12
Naval Aviation Musuem, Pensacola, Florida14
Feb 13, 2007, Valentines Day 20078
Aug 09, 2007, FY08 CPO INDUCTION ONBOARD USS KITTY HAWK (CV 63)48
Sep 23, 2007, Friendship & Family Day Cruise 20072
Sep 28, 2007, KHAKI BALL 2007 NEW SANNO HOTEL16
Oct 26, 2007, MURORAN, JAPAN MANNING RAILS & RECEPTION 26 OCT 2007
Oct 26, 2007, MURORAN, JAPAN RECEPTION, 26 OCT 077
Feb 22, 2008, KITTY HAWK CPO MESS "LAST DINING-OUT"3
Mar 16, 2008, Quality Family Time2
Mar 16, 2013, General Photos